Thankful for the trip on a tankful
by Sabrina Hornung | .(JavaScript must be enabled to view this email address) | Editorial | June 1st, 2017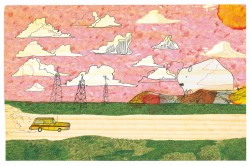 Artwork by Max Patzner
I'm a big advocate of the day trip some call it a trip on a tankful. In fact I've been known to refer to it as "gravel road therapy." I find that driving is a good way to sort your thoughts and a decent way to gain perspective. You can meet a lot of interesting people along the way and maybe even see a bit of wildlife -- and we're not just talking about the locals at Hanson's Bar.
It's important to explore and acknowledge your own backyard. We highly suggest you take a few back roads this time of year while the lilacs are still blooming. It's beautiful and it smells great, but be sure to roll your windows down for the full effect.
There are countless small towns peppered throughout the state with mom-and-pop shops, eateries, and taverns, who welcome daytrippers with open arms and warm smiles. Many of these restaurants source meats from butcher shops in the area, offer fresh homemade desserts, some with recipes passed through the ages -- like Reister Meats & Bakery in Medina.
Their storefront is a social space and market space. After speaking with the proprietor, she disclosed that their sausage recipe was handed down from their great-grandfather, a German immigrant.
The Tastee Treat down the street served up a mean strawberry rhubarb milkshake. If that isn't a regional treat, I don't know what is.
The town of Buffalo is beautiful this time of year as the peonies start to blossom. The graveyard is plotted on a grid system and a peony is planted on every row. Local legend attributes the peony tradition to a grieving mother who planted a peony on the gravesite of her son who had lost his life during the First World War. Close to 100 years later, the cemetery is awash with white, pink and fuschia blossoms.
Buffalo is less than an hour west of Fargo Moorhead on old Highway 10. Red Trail vineyard isn't too far from there and is worth a visit.
I secured a reprint of North Dakota: a Guide to the Northern Prairie State on Amazon, and it has been my guide on more than one trip. Though it was originally published by the State Historical Society of North Dakota in 1938, much of the information is still relevant.
The American Guide book series was produced between 1935 and 1943 by the Federal Writers Project (FWP), a program under the Works Progress Administration (WPA). It employed over 6,000 writers and created in-depth travel guides to the lower 48 states (Hawaii and Alaska weren't admitted to the union until 1959).
Not only did the WPA guide books cover the geography, culture, and history of the state they included drawings, maps, and photos as visual aids. In fact the great John Steinbeck sung the books' praises in his novel "Travels with Charley," in which he travelled the U.S. with his standard poodle Charley.
Upon reviewing them more than 80 years later, they still contain valuable insights into our nation's past. There are bits of collected verbal histories as well as regional folklore, Native legends and provide an overall regional sampler platter to curious travelers.
The initial purpose was to create jobs for historians, teachers, writers, and librarians during a time when employment options were scarce.
Unfortunately, many of the writers saw their contributions to the series as shameful and saw their pay that they received as accepting a government handout -- because the FWP was a federal program. Now the original printings are sought-after collectibles and reprints are readily available.
Another intent of the series was to promote travel on many of the new roads that were created around that time, and to encourage in-state travel to stimulate local economies.
Just imagine a time when supporting mom-and-pop shops was the only way to shop!