Thanks to you, HPR is now going forward in its 24th year
by John Strand | .(JavaScript must be enabled to view this email address) | Editorial | September 13th, 2017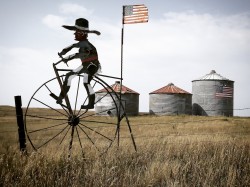 The Little Newspaper That Could turned 24 last week. Although it was without much fanfare, it's an accomplishment that is without compare in Fargo over the past many decades. We are proud to say the least.
HPR is the people's paper. It's distributed for free and we have thousands of readers weekly. Our press run weekly typically exceeds 12,000 papers. We have several hundred business partners who allow HPR to be distributed at their locations. Additionally, thousands more read our content online.
The Reader leans left which is no surprise to any of you. We take pride in fighting for ordinary people and even underdogs who face various challenges in life. Goodness knows there's no shortage of right-leaning. Everyone deserves a voice.
For those who do not know HPR's history or roots, a quick synopsis: The Reader was created by a handful of former UND students who wanted a weekly arts newspaper in Grand Forks. Some of those names include Ian Swanson, Peter Ryan, Len Schmid, Jim Johnson, and Rex Sorgatz. They began with a bi-weekly paper, black and white and typically 16 pages. Just past the two year mark, those founders agreed to transition HPR to new owners. That sale took place in December of 1996.
When the historic flood of 1997 devastated Grand Forks, HPR finalized its relocation to Fargo and basically had to start over. Not long later, we upgraded to four-color processing and began distributing weekly.
This community has been a good home for the High Plains Reader.
While many say newspapers are dying, we've been somewhat insulated from that, being as our paper never has carried a cost for subscription fees for individual issues. Our advertising rates cover substantial market distribution. The more who read HPR the better.
The Reader has been a steadfast anchor in the local arts, culture, entertainment and food industries. Local talent gets exposure on our pages, as do many of the national stars who pass through. HPR has shed light on musicians who've gone national and artists who make substantial impacts. Jonny Lang and Shannon Curfman, for example, were featured on HPR's cover while in their early teens.
In recent years, the Reader has stretched its focus to include substantially more hard news. We believe this is an important shift when it comes to being relevant.
Sabrina Hornung is our editor and she has a great team. Jay Miller is our primary advertising representative and with over a decade of experience, he's a valuable resource to our many customers as well. Raul Gomez, publisher and co-owner, oversees weekly content, layout and design.
Some of our contributors are staples in our community in their respective fields. Chris Jacobs and Greg Carlson are cornerstones of our long-running film coverage. Chris was affiliated with the Reader in Grand Forks since day one. Ed Raymond is another long-standing anchor.
Over the years, our editors have included Ian Swanson, Rex Sorgatz, John Lamb, Zach Kobrinsky, Cindy Gomez-Schemp, Diane Miller, and me.
Every Thursday it warms our hearts to see people already carrying the new issue around town. They are like clockwork. They are loyal. And they are family.
It's fruitless to try mention everyone, and already we run the risk of overlooking key people. Yet everyone associated with HPR knows it's fueled by heart. We cannot thank everyone enough.
Our advertising partners absolutely warrant acknowledgment as well. Were it not for them and their investment in our vehicle to reach out to the community, we'd be running on vapor. There is no doubt, however, that HPR reaches thousands weekly and makes for a good bridge between advertisers and our reading audience.
Bottom line, a very sincere thank you to all of you who've become part of the HPR family and community. Thanks to our contributors, our readers, our sales team, our design team, our editorial team, our advertisers, our business partner outlets, our printers, and our delivery people.
It's been a challenging yet fruitful journey. We take pride in HPR's role in reflecting and shaping our greater community. Thanks to you HPR is now going forward in its 24th year.
Beck: Art Icon Dies
As HPR was going to press Wednesday, we received word that artist icon Charles Beck from Fergus Falls died.
Beck was absolutely a pillar of the arts community regionally. His block cut prints, oil paintings, and sculptures set a standard rarely achieved by others.
At 94 years of age, Beck's contributions to the arts world are incalculable. His work spanned generations.
Our heartfelt condolences to the Beck family. Please know we grieve -- and celebrate -- with you.