That's all folk
by Sabrina Hornung | .(JavaScript must be enabled to view this email address) | Editorial | October 11th, 2017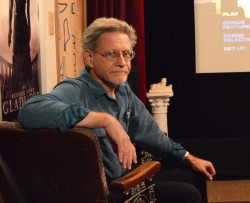 Our opinion: Folk art as a connector and a hard goodbye
Last week my friend Molly Mclain and I started a rosemaling apprenticeship through the Folkart and traditional Art Apprenticeship program, through the NDCA under master painter Pieper Bloomquist.
Rosemaling is the traditional decorative painting of rural Norway. Not only are we learning the craft -- we are learning the history as well.
Norwegian rosemaling was a direct reaction to the painting styles of the Renaissance, Rococo, and Baroque movements. Upon close inspection, you can see where the inspiration came from, for the graceful fluid brush strokes with scrolls and acanthus leaves contained within. The golden age of rosemaling was between the mid-1700s through the mid-1800s and was adapted by working class artisans. The intent was to brighten up drab interiors in windowless homes with walls covered by layers of soot.
Eventually, guilds were formed and the art was treated as a disciplined craft, and then spread throughout the countryside. Each area of Norway developed a distinct and identifiable style. The knowledge of the aforementioned movements was made possible by contact through trade with the mainland.
Art jargon aside, it's pretty interesting stuff. There are a lot of parallels and comparisons that can be made within the folk arts; and interestingly enough, seeing these parallels in our folk traditions connects us all the more, whether we realize it or not.
One can identify floral motifs and patterns in various media from various cultures across the board. Take note of the floral patterns found in Ojibwe beadwork, floral patterns in Wycinanki (Polish papercutting); and even in the Cheyenne tradition of leather work, which includes elaborate scrollwork, flowers, and acorns. There are those that keep their folk traditions near and dear to them, passing on the secrets in their symbolism, the soul of their stories and carefully mixing their pigments much like our elders did.
These thoughts come to me quite often, but most poignantly this time around as I found myself standing in the middle of the main drag in beautiful downtown Robinson, North Dakota, as my pals and I said our goodbyes to Dale Watson and his band in their glorious tour bus embellished with a pattern mimicking the scrolls and flowers of tooled leather.
Full disclosure: I did just spend two days practicing my "S scrolls" and "C scrolls" in my rosemaling apprenticeship, so I was dreaming of scrollwork and seeing scrolls in the clouds and prairie grasses on my way there.
Delirium aside, this only re-establishes art as the ultimate unifier; or even as corny as it sounds, establishes art as a universal language, whether we approach it from an international lens or through a personal lens.
Last year I had the privilege of participating in an art program called 'Art for Life.' The North Dakota Council on the Arts joined forces with the Arts Center in Jamestown.
Here, master paper cutter Meridee Erickson Stowman and I worked with the elders at Ave Maria nursing home and created a 7'x7' tree of life.
Each week we started a new discussion surrounding our corresponding project. We made colorful acorns and spoke of our origins--where our families came from; and we made colorful flowers and spoke of celebration and the traditions that came with them.
If whoever had problems maneuvering their scissors, we helped them out and asked them to choose the colors of their liking. Needless to say, the piece turned out to be beautiful and serves as a concrete example of the shared stories of multiple generations.
In loving memory
As our week started out, we received some devastating news. Cinema columnist Christopher Jacobs passed away over the weekend. Jacobs was one of the longest-running film critics in the region and graced our paper with his reviews since HPR's inception in 1994, and never missed an issue, not even once.
He was also a lecturer in the UND film studies department and was active in various academic film circles and events throughout the region; and was also an active part in the transition of the Empire Theater cum art center. It's no secret that Jacobs was passionate about film, and even sent us a list of columns that were on the books. This week he planned to review 'The Jazz Singer' on Blu Ray. You can bet your boots I'll watch it this weekend and wonder what kind of wonderful insight he would have provided us.