The governor's wake-up call
by HPR Staff | .(JavaScript must be enabled to view this email address) | Editorial | May 24th, 2017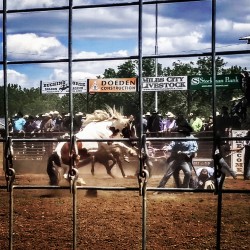 We've just read Mike McFeely's interview with Governor Burgum, are intrigued by the governor's vision of the future of higher education; that online courses will largely obviate the need for campuses, tenured faculty, and other obsolescent features.
We know about Stanford University's online high school because we know a middle-school student who aspires to it.
Stanford's online secondary school starts in the seventh grade. Admission is not easy. They are looking for bright, motivated sixth-graders with adult time-management skills.
Dig into the nooks and crannies of their website and commentaries about it, and you gather that they are concerned that students won't be as completely socialized as their bricks-and-mortar contemporaries. Because exclusively online education is new, they don't know what the social effects are, but suspect there are some.
They try to minimize isolation with lots of teacher-student interaction, group projects and exercises with other students, and, we've heard, students getting together with other Stanford students in their area.
The point we're making is that effective online education may not be cheaper than campuses and tenured professors. All education of decent quality is labor-intensive and requires lots of person-hours.
We believe that Governor Burgum is sincere in his wish to give the academic community a wake-up call. But is his position partly an excuse to starve the public universities of funds?
If the ND public universities suddenly accepted the governor's guidelines and went to him hat in hand, would anything change? Not at present.
Online courses and entire programs of study are not beneficial in and of themselves. They need to be done right, and we wonder if they will be.
Another thing that needs to be done right is the projected Downtown Fargo free WiFi.
Some interested parties have been making noises about it.
Anybody who does much traveling knows that many hotels have inadequate WiFi, with weak or on-and-off service. The hotels apparently called around, settled on the lowest bidder, and acquired an excuse for a system, just to say they have it.
The free WiFi in many buildings weakens automatically during hours of light usage, making it useless for nocturnal people such as ourselves.
Please. Need we mention that WiFi is a necessity and has been for awhile?
We sometimes visit friends in Miami Beach, where the city has provided free WiFi covering the entire city for some years.
Which sounds good until you have to use it. You sit in the park with your laptop. Navigation is glacially slow. Working with several pages on the screen isn't possible.
In many parts of the city, the ground floors of apartment buildings have a usable WiFi signal, but not the second floor and upwards.
That's an excuse for WiFi, just as bad as the negligent hotels, and we are talking about Miami Beach, where the average home value is 70% higher than in Fargo.
The other question is will it even get done. The example of Moorhead comes to mind.
In 2007, "The City of Moorhead lost $1 million on its struggling Wi-Fi system after a series of glitches led half its subscribers to cancel their service," said Minneapolis Public Radio.
And that's subscriber-based, not free, with a greater incentive to build a system that works. What will the new Downtown Fargo WiFi be like?
The Moorhead provider was 702 Communications, and they were just getting started and bit off more than they could chew. To be fair, they'd do better now.
And Downtown Fargo's? "'It's not necessarily built for being inside of a building,' said Jake Joraanstad of the Downtown Community Partnership, quoted by Dominique Brogle in the West Fargo Pioneer. 'So, if you want to sit out on a bench and have Wi-Fi, or use your phone on the Wi-Fi downtown, you'll be able to do that."
"For major events like the Street Fair, internet provider Midco would boost the signal so more people could use it."
If Midco could boost the signal at will, why not boost and let it be? Is Midco in collusion with the indoor WiFi providers? Does it fear them if it trespasses on their turf? Could all Downtown apartments have WiFi at no extra cost if Midco would allow it?
We wonder. Will this vital project work? It may provide a model for the entire city.
The City of Fargo Planning and Development Department has to approve the equipment and its location. We say that's not enough. The City Commission should vote on it.
We're not recommending a yes or no vote, but we hope the commissioners ask a lot of pointed questions.