​Use that energy to combat hate speech with love
by Sabrina Hornung | .(JavaScript must be enabled to view this email address) | Editorial | May 3rd, 2017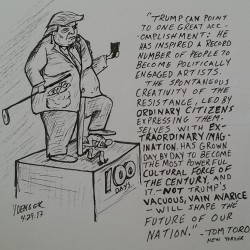 Last week a handful of posters appeared spewing hate speech and singing the praise of the alt right. Fargo resident Christopher Smith took photos and posted them on his facebook and the comment response lit up like wildfire.
It's hard to understand, rationalize, or logically justify this hate speech, but it seems to be contagious--not just for the people who support the alt right ideology but also from those of us who vehemently disagree. The posters elicited a response of anger and fear in Fargo--the exact things that fuel their movement. There's a lot of uncertainty in the air and too much finger pointing. To say our country is horribly politically divided right now would be the understatement of the century.
The comments online regarding the posters were filled with their own hate speech calling the perpetrator names too despicable to print--but what's the point? Are we poking the tiger awaiting a reaction so we have something new we can kvetch about online and chalk it up as armchair activism? We need to take the high road.
We are in no way advocating for this individual or supporting these ideals but we need to acknowledge that this young man seems troubled… there has to be some kind of an underlying issue. What leads someone to feel this way? Is it a learned behavior? Is it a grab for attention? Is it the siren song of the photos of beautiful pale young women used by the Pioneer Little Europe facebook page? Who knows, though it would make an interesting conversation.
We need to resist the urge to respond to hate speech with hate speech. We need to channel our anger with something more productive. Make art, play some music, volunteer, plant a garden do some research on the topic--arm yourself with knowledge. Run around the block a few times--and if you see an inflammatory poster take it down and be sure not to litter.
I know we're preaching to the choir when we say that we need to speak up and stand up for those who are marginalized and who are the targets of this rhetoric. What if we switched out the posters with messages of inclusivity and replaced hate with love? Beautify with a message. There's enough negativity and ugliness in this world let's quit adding to it.
Winter is coming...
One thing that puzzles us around here is the term snowflake. Whoever coined that term has obviously never been to our neck of the woods. The right uses the term as an insult against the left because they believe we're fragile, but as long as we're making snowflake analogies they should never be underestimated, en masse they're dizzying--disorienting even. They create a blizzard. I mean I've seen a few episodes of Game of Thrones--when they say "Winter is coming" it's a force to be reckoned with. There's power in numbers friends--now is the time to be politically aware.
Interestingly enough, according to Merriam Webster,"In Missouri in the early 1860s, a 'snowflake' was a person who was opposed to the abolition of slavery—the implication of the name being that such people valued white people over black people." It's funny how much the tables have turned in the past 150 years--in a world of "fake news" that's not "fake history". Ironically enough the guy shamelessly whistling dixie and calling liberals snowflakes under his breath might be a snowflake too. Who would have ever thought we'd have SO much in common?