​Coffee with Congressman Kevin Cramer: dispatches from the town hall meeting
by Zac Echola | .(JavaScript must be enabled to view this email address) | Last Word | March 1st, 2017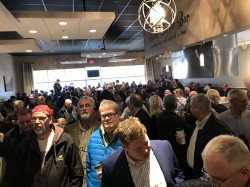 People showed up hours early to get a good seat to meet North Dakota's sole representative for a town hall session on February 23rd, but many constituents were forced to the back of the room when Cramer's publicist, who had arrived even earlier, reserved prime seating for Cramer lackeys and sycophants like the hate-group Concerned Women of America, or to perennial ratings-loser Chris Berg and the skeletal remains of Scott Hennen.
Berg seemed particularly pleased with the turnout. I overheard him talking with Cramer's flak about the impressive crowd size, which spilled into the parking lot. Who can blame him? Not since he played football at Fargo South have this many people seen him simultaneously.
Several of us found our way to the front anyway. We wanted answers to real questions from real constituents, so we made room for them amidst the claqueurs and agitators invited by the representative. People had to actively clear a space at the front of the room if we had any hope of having a question heard.
For his part, Representative Cramer arrived early and started on time. He then proceeded to bore the audience with a history of the British parliamentary system.
When we demanded that he stop stalling and get to the questions—the real reason anyone had turned up to his normally-snoozer "Coffee with Cramer" sessions—Linda Thorson of Concerned Women of America turned around and started feebly slamming her chair into my legs. I've been to my share of protests and even a couple riots, but I've never seen a person actively try to disturb the peace so ridiculously. When I laughed and raised my camera, she spun her face away from the lens with the ease of a barn owl.
This wasn't an isolated incident. A man in a cheap suit, with a 1950s haircut and a comical, novelty-sized American flag pin on his lapel, worked the room before during and after the Town Hall. He got in people's faces to argue with them, spittle foaming at the crease of his lips, and some took his bait. He was a very red, very mad man. At one point I saw an older woman push him back.
"They should close their legs" croaked a smooth-brained fellow from the peanut gallery when the topic of women's health came up. His non-sequiturs were quickly shushed by the crowd around him. After a few minutes he'd muster the wherewithal to holler some other inanity like "health care is not a right" or "shut down the Department of Education" at nobody in particular and the process of clamming up and gathering the emotional strength to say something dumb in public started all over again. You could see his gears turn between outbursts.
A blonde conspiracy theorist kept pulling up insane Alex Jones memes from Facebook on her phone to wave like tiny digital protest signs at anyone who disagreed with her, which was everyone.
The most effective provocateur I saw was a squirrelly guy who wore a flimsy "Hillary for Prison" shirt, the sort of merchandise hastily designed by people looking to capitalize on a meme, and sold to idiots with too much disposable income online. It was tattered and unwashed like he wore it every day of 2016 and probably every day of this year too.
We watched him drop a mini donut on the floor, pick it up as though he weren't surrounded by hundreds of people and eat it whole. He didn't have to say a single word to disgust the people around him.
While Rep. Kevin Cramer rightfully got many, many boos from the crowd when he called protesters "very mentally ill," you can see where he's coming from. These are the sort of malcontents that make up his most rabid base. People know best what they surround themselves with, especially when they live in a bubble of yes-men like Congresspeople do. So of course, from Representative Cramer's perspective, protesters seem touched. They eat food off the damn floor.
If Team Cramer wanted to piss people off, they didn't need to have paid protesters from the Plague of Heinous Women Legislative Action Committee show up. The air was as thick with tension as it was with body heat.
First of all, the size of the venue was shockingly small for what anyone expected the turnout to a public political event during the congressional session break would be. Anybody who attended an Earl Pomeroy town hall in 2009 knew that. Beans Coffee House was shoulder to shoulder, standing room only, old next to young, Christians beside Muslims, business owners and union members, etc. It seems that in a single election, the local GOP figured out how to universally make everyone mad at them.
One of two things is clear: Kevin Cramer vastly underestimates how angry people are or he knows exactly how much. He wanted to limit the number of people who could attend by choosing a relatively small venue and an awkward time for constituents to show up. Many people I talked to took a late lunch to attend, or took the afternoon off from their jobs altogether. Spending personal time off of work to have Kevin Cramer condescendingly lecture North Dakotans isn't anyone's idea of a good vacation.
Cramer doesn't actually understand real voters in North Dakota. He mistakes the capitalist suits and out-of-state rip-off artists who fund his war chest for constituents. Corporations are people to Kevin, you see.
Rep. Cramer joked that "all the supporters of Obamacare in North Dakota" were there. A couple of ghouls howled with laughter but the vast majority booed loudly and continuously. He quickly realized that nobody wanted to joke around. Constituents have real medical and insurance problems that are solved in part by care provided by Federal government regulations and programs. The thought of losing even an inch of that ground terrifies them.
He was asked what he planned to do and he always said he would fully repeal the Affordable Care Act, but somehow not any of the parts people like about the ACA, which is most of the ACA. When asked what he would replace it with, he would respond "nothing" using hundreds of words to describing all the perceived wrongs of the ACA.
When asked again what his plan is, he said to go to a website. He couldn't remember the web address, though. Like Kevin Cramer's Canadian girlfriend in high school, a replacement plan doesn't actually exist. For all their bluster about repealing and replacing, Republicans like Cramer never could imagine a world where they'd actually have to govern the country, so they sat on their hands for years as obstructionists. Now they're flying by the seat of their pants. It's on-the-job training without a trainer.
Cramer recently posted a press release, along with Governor Doug Burgum and Senator John Hoeven, saying the state must cut funding by 25% and that the only way to possibly insure anyone, including those on Medicare and Medicaid, is to, uh, "innovate" by repealing the Affordable Care Act.
"Innovate" is the type of empty word used by people who have no clue what they're talking about, who scrape through life on meaningless jargon. Annoying bosses, third-rate marketing professionals, Ayn Rand enthusiasts, college Republicans. "Innovation" isn't an ethic like "health care is public necessity and it is a basic right." It's an empty idea that sounds futuristic, but in this instance really means "make more money off sick people." It's mixed up priorities and it's shameful. It's also a blatant admission that the Republicans who now control every aspect of Government have no clue what they're doing with health care.
Here's an example: Rep. Cramer repeatedly mocked President Obama's "if you like your plan, you can keep it" line. Rep. Cramer also repeatedly said he favors letting patients choose their healthcare providers. Planned Parenthood, however, is not a healthcare provider you could choose if he gets his way. He said existing hospitals and clinics could take the overflow.
Go to Sanford's or Essentia's websites right now and find a family provider taking new patients, let alone one who specializes in family planning or women's health. Everyone in the medical world locally and nationally knows full well that they can't and won't absorb Planned Parenthood's patients.
It became increasingly more difficult to hear Cramer's responses from the back. He rambled on and on, without ever answering simple yes or no questions. "You owe this woman more respect," he scolded at those who called him out for disrespecting the questioner by not answering her simple questions.
He seemed to confuse and even surprise himself with his answers. He's now on the record, publicly, for increasing the Social Security cap, which I don't think he'd actually vote for if it were put in front of him.
Every question, often a deeply personal and frustrating story, was met with a "great point" or some half-assed platitude, before the representative politely told the questioner he intended to utterly screw her over in a sea of meaningless tax credits and voucher coupons to clip.
Something I found interesting: Kevin Cramer doesn't do well under pressure. As the hour went on, he got quieter and more timid with his responses. He mumbled incomprehensibly, appeared weak, low-energy. In sudden bursts of energy, he would sometimes ham-fistedly try to shut down a demand for a real answer as impolite, only to be laughed at by the much higher energy crowd.
When that didn't work anymore, he'd shout some banality that rouses extremists in the right wing, only to be heckled by this particular crowd. As his go-to gimmicks stopped working, his posture shrank and he grew visibly tired. He mumbled something about a 2:30 meeting he was going to be late for and stepped off his soap box abruptly. He didn't run off, like other republicans at similar town halls. He ran out of steam.
It was a very bad day for the representative. I wouldn't doubt it if he's too chicken to show up publicly in his state's largest city ever again. There's precedent for it. The 2017 Republicans look at lot like the 2009 Democrats: all the power and no control, so they'll go into hiding.