I'm crashing your (balloon release) party
by Tessa Torgeson | .(JavaScript must be enabled to view this email address) | Last Word | March 15th, 2017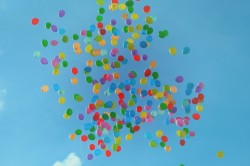 A sea of bright balloons floats against the backdrop of the infinite prairie sky, blotting out the clouds and sun. This is a poetically picturesque scene soon gracing Fargo's skies.
Gigi's Playhouse, a Fargo nonprofit that provides services for people with Down Syndrome, is planning their second annual balloon release fundraiser for World Down Syndrome Day, held on March 21st because Down Syndrome is caused by triplication of the 21st chromosome.
Releasing balloons into the air speaks a universal language across the world, transcending borders, cultures, and oceans. This familiar imagery is so embedded into our collective consciousness and entwined with meaningful rituals that we are complacent about considering the repercussions that balloon releases have upon the environment.
This may seem like a small issue, but making the choice to not release balloons contributes to environmental and animal preservation rather than destruction.
With the Trump administration proposing a devastating 25 percent cut to the Environmental Protection Agency, it is a critical time for us to coalesce to protect the planet in any way we can. Trump's proposed EPA cuts would cut nearly a third of state grant programs that protect air and water quality, fund cleanup of abandoned industrial sites, conduct water quality tests, and buy cleaner school buses.
While I realize the importance of fundraising for nonprofit organizations and understand the sentiment behind balloon releases, the fleeting beauty and symbolism has a lasting detrimental impact on our environment. Specifically, balloon releases create pollution, and kill domestic and marine animals alike.
U.S. Fish and Wildlife Service, "is imploring Americans not to let go of balloons outside." Many animals mistake the balloons as food or are strangled by balloon strings. Balloons have contributed to the death and harm of marine turtles, of which all seven species are nearing extinction. Balloon releases are banned in five US states: Virginia, California, Connecticut, Tennessee, and Florida.
There have been dramatically disastrous balloon releases and while I realize this is an extreme example, it was the impetus for other organizations to ban balloon releases. On a stormy September day in 1986 The United Way released 1.4 million helium balloons into the sky for a fundraising event in Cleveland, Ohio. Trying to beat the storm, event organizers frantically released the balloons from a giant net in the downtown square. The balloons literally eclipsed skyscrapers, the sun, harbor, and even the airport runways, causing the airport to close down, dozens of car accidents by falling balloons, and power outages. Although the intention of the balloon release was positive and hopeful, it was a frightening reminder of the consequences of litter.
With that said, I hope that Gigi's Playhouse and other Down Syndrome organizations consider a fundraising method other than balloon releases. This is not intended to criticize the specific organization of Gigi's Playhouse, but merely ask them to reconsider the damage of balloon releases.
Gigi's Playhouse positively impacts and improves the quality of life in our community. As someone who has worked in nonprofits for ten years and also with people with disabilities, I am very supportive of the cause and feel it meets a vital need for people with Down Syndrome and their families for support, connection, and services.
It was heartening to see the agency's 21 Days of Kindness posts on Facebook, where they shared: "Show you care about the environment and let's make it a little cleaner! Pick up some trash or litter as you walk through a parking lot, walk around your neighborhood, or stroll through a park!"
After this post showing commitment for the environment, I was troubled when I saw that Gigi's Playhouse was joining hundreds of other organizations across the world to release 321 balloons as part of World Down Syndrome Day. If only one organization in each state in the US participated, that would mean 16,050 balloons released into the ether.
Some companies have claimed their latex balloons are biodegradable- freezing when they soar to an altitude of five miles, bursting apart into bits before they fall back to land where they break down into the soil just like a leaf.
Most rubber balloons are made of chemical-treated latex that can take six months to break down, leaving plenty of time to wreak havoc upon animals and creating more litter. Moreover, many supposedly "biodegradable" balloons still have traces of chemical latex, are attached to strings that end up strangling animals or getting caught in power lines and causing power outages. Southern California Edison reported about 470 blackouts caused by these balloons in one year.
Additionally, balloon releases waste helium, a non-renewable, finite resource that is required for important life-saving uses such as MRIs and ventilators, along with space and sea exploration.