Should Fargo have another bike co-op?
by A.D. Ness | .(JavaScript must be enabled to view this email address) | Last Word | April 5th, 2017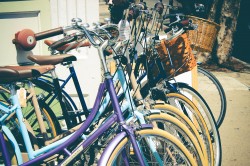 The answer is yes, of course it should. However, that is the simple answer. There is much more to it than that; and to understand the answer, one must understand why the last one closed.
When the FMCBW -- Fargo Moorhead Community Bicycle Workshop -- first opened it was extraordinarily political -- WAY too political. For a long time it felt like it was a Social Service agency that just happened to also fix bicycles.
Not that there is anything wrong with helping others, but as a bike shop, it seemed like just way too much attention was devoted to others' causes, at the expense of its core mission, to get people on bikes.
The structure of its leadership presented problems. What started as a horizontal collective, where each member was equal, slowly devolved into a vertical collective with far too many "leaders," that still tried to pass itself off as a horizontal collective when it obviously wasn't.
If there is to be another co-op, a decision must be made at the very beginning: what will it be?
In my opinion, the horizontal collective concept just did not work. How can an organization run itself if nobody is actually in charge?
Decisions were being made by a select few members anyway, why pretend otherwise? Stick with the tried and true chain of command structure (the vertical collective) to avoid the myriads of problems the horizontal collective encountered time and time again, and the new co-op would run much, much smoother.
Another thing that was extremely problematic was the presentation of new ideas. It didn't seem to matter how many times an idea was presented, or how it was presented, or to whom. Written ideas were simply dismissed, verbal ideas didn't make it to the meetings, or were "shelved" for weeks at a time until they were simply forgotten. New issues would arise, burying the old ideas.
It always felt like the original mission statement (overtly political) would be the main reason for dismissing profit-generating ideas time and again.
Don't get me wrong, the Community Bicycle Workshop did wonderful things, and helped a great many people to get a bike, but it could have accomplished so much more if it hadn't written such a limiting set of guidelines at the very beginning. Nothing is set in stone, so why did it feel like it simply MUST be that way?
Also, while the beginning may have been one kind of community bike shop, the last days were something else entirely. It transformed into basically, a back-yard bike shop, with very limited community education, and far too much bike shop.
One of the founding fundamentals was payment for using the Workshop by volunteering one's time there.
At the end, the work-trade aspect was all but eliminated in an attempt to sell everything simply to keep the doors open, which was so contrary to why it was started in the first place -- to help people who couldn't afford a bike, get a bike.
So how should it be structured if another bike co-op were to get started? What would need to be different for it to work this time? The answer is a clear chain-of-command, with an actual leader who runs it for a pre-specified amount of time (one year? two years?); and separating the two distinct areas within the co-op (educational vs profit-generating) would ease the headaches all around, as some people like to show others how to fix bikes, some people don't; some like to sell bikes, while others don't.
Why all the overstepping of what were obvious divisions within the organization? There was a place for everyone that wanted to help until the iron-clad rule system turned so many people away with its inflexibility.
I am reminded of a quote I long-ago heard, "Sometimes the groups that proclaim themselves to be the most all-inclusive end up as the most elitist." And yes, some of the FMCBW members fell victim to that very trait, often by employing utterly condescending "tone-policing" tactics to shut people down.
"Community" means just that, the community, not just the few that felt their vision was the purest. They were just bicycles, there was no need to take everything so incredibly "we're-saving-the-world" seriously.