​Strengthening families
by HPR Contributor | .(JavaScript must be enabled to view this email address) | Last Word | September 14th, 2016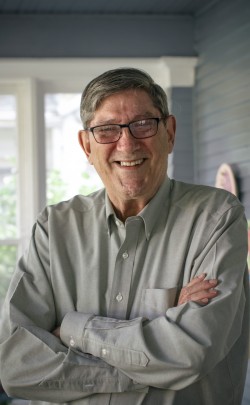 By Eliot Glassheim
press@eliot4nd.com
It's said that families are the building blocks of our society. But too often, politicians pay lip service to families without working for common sense solutions that actually strengthen families.
Whether they are heads of households or partners in supporting families, women in North Dakota, on average, are paid 71 cents for every dollar earned by men for the same work.
This means over a lifetime, women are cheated out of over half a million dollars in earnings. Families have less money for food, clothing and other essentials, less money for vacations, less to pay for college and invest in their retirements, and less to help their children buy a car or put down a payment on a house.
My opponent, Senator John Hoeven, has voted against equal pay for equal work five times in three years.
Unlike Senator Hoeven, if elected I will strongly support equal pay for women. I will also vote for provisions that make equal pay mean something: prohibition of retaliation against workers who disclose their own wages, collection of wage-related data, and strengthening of penalties for equal pay violations.
Another important issue for North Dakota families is paid family and medical leave, which would guarantee a minimum amount of time off from work to be with newborn children, care for aging parents, or stay at home with a sick family member.
In 2014, out of 185 countries or territories surveyed, only three – Papua New Guinea, Lesotho and the United States – did not provide some form of paid family leave for new parents. Here in North Dakota, Nearly 50 percent of our private-sector workforce is ineligible for a single day of family leave. I believe we can do better.
Again, my opponent has been unable or unwilling to take a leadership role when it comes to paid family and medical leave. I, on the other hand, believe this is an essential tool that will strengthen family ties, and I will do everything in my power to achieve paid family and medical leave in the U.S. Senate.
Another policy that ensures the financial security of retired family members is Social Security. Politicians have known for years that unless Congress acts on a package of modest revenue increases and modest means testing for affluent recipients, in 17 years everyone's Social Security benefits will be automatically cut by 20 percent.
Social Security accounts for a significant portion of income for millions of Americans over the age of 65. For many seniors, Social Security represents nearly the entirety of their financial stability. Who will make up the difference retirees will be cheated out of if nothing is done to fix Social Security?
Unlike Senator Hoeven, who has done nothing in the past six years to address the long-term stability of Social Security, I will work with moderate Republicans and Democrats to guarantee the availability of funds to pay full benefits for retired Americans for at least the next half-century.
Finally, millions of senior Americans and their families depend on Medicare's guaranteed benefits to ensure access to quality, affordable health care.
Under the guise of budget reform, Senator Hoeven has voted multiple times to turn Medicare into a voucher program, which would increase costs for seniors by thousands of dollars each year. Under the Ryan budget, which Senator Hoeven strongly supports, a 65-year-old living at the poverty line would pay $4,700 more each year in health care costs.
But there are ways to save money for Medicare without damaging the lives of retirees or their families. First, use the leverage of 40 million contracts to negotiate drug prices with pharmaceutical companies. Secondly, when a patient qualifies for both Medicare and Medicaid, the government should save money by paying the less expensive Medicaid rate, which they are prohibited from doing under existing law.
It's well and good to talk about being in favor of families. But unless we put our money where our mouth is, families in North Dakota and across the country will continue to suffer from financial insecurity. We need meaningful action, not just lip service, when it comes to strengthening families.