​Succeed 2020: Thank you, Hess Corporation
by Kirsten Baesler | .(JavaScript must be enabled to view this email address) | Last Word | October 11th, 2017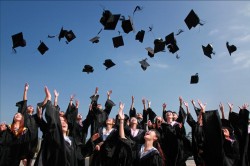 In 2011, Hess Corporation announced a generous $25 million grant to improve North Dakota's public education system. The grant, called Succeed 2020, aimed to improve student preparation for college and careers and ensure more successful transitions from K-12 to college and/or careers for all North Dakota students. Funding supported efforts through the 2012-2017 academic years.
To accomplish its bold goals, Succeed 2020 specifically aimed to increase ACT scores, decrease developmental or remedial education, and increase the number of students who complete high school and college programs on time.
North Dakota's eight regional education associations (REAs) worked collaboratively with multiple stakeholders, including state and local leaders, school districts, businesses, and higher education institutions to implement this initiative.
I served on the grant's steering committee beginning in 2013, along with several other state leaders from the public and private sectors. Succeed 2020's regular activities were supported by FHI 360, a non-profit development organization.
Over the course of the past five years, Succeed 2020 has played a role in several positive outcomes for North Dakota education, including increasing our high school graduation rate and increasing the number of students earning our state scholarship. I am particularly proud of the fact that after the introduction of Succeed 2020, we saw a 9 percent increase in students earning the state scholarship.
The impact on on-time high school completion rates keeps North Dakota above the national average as an educational leader. In fact, North Dakota's on-time graduation rate is now five percent higher than the national average, and 23.46% of our graduates are earning the state scholarship to help with higher education pursuits.
In addition to direct student outcomes, one of the biggest accomplishments of Succeed 2020 was increasing the capacity of our REAs. These eight independent associations support educational needs of member school districts across the state. Through Succeed 2020, REAs provided more in-depth professional learning for educators; improved career fairs, job shadows, internships and other work-based learning for students by working with hundreds of businesses across the state; and addressed some of the greatest concerns of educators across the state through collaboration and common strategies.
These are all significant wins for our public education system now and into the future, that would not have been possible without the bold and ambitious public-private partnership between Hess and the State of North Dakota.
Within education, we are always pushing ourselves to do more and to do better so that every generation of students has the knowledge and tools they need to succeed in whatever future path they seek. I am honored that Hess contributed so generously to this mission as part of its commitment to making a positive impact on the communities where it operates.
I look forward to all the progress on the horizon for our public education system as a result of what Succeed 2020 put in motion, along with several other ongoing efforts within our state. Our students and North Dakota will be better because of it.
[Editor's note: Kirsten Baesler is the North Dakota Superintendent of Public Instruction]