​Which airline is best for musicians?
by HPR Contributor | .(JavaScript must be enabled to view this email address) | Last Word | March 14th, 2018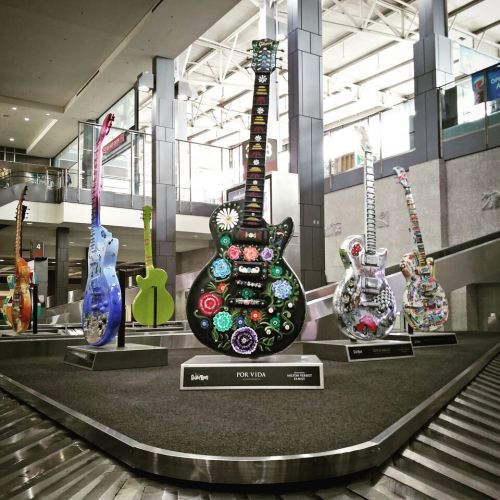 By Andrew Vait
https://www.facebook.com/andrewpaulvait
We made it to Austin! The sun and warmth feel good, but it was a hard day of travel and I think some of you guys might benefit from knowing what we learned today.
United checked our equipment in at SeaTac (Seattle-Tacoma International Airport) this morning and we were charged the full baggage fee of $120 for 4 bags and an additional $100 for an oversized piece of gear. Annoying but typical commerce transaction. At our gate, because of our ticket class, we were charged an additional $175 for a single carry on-size suitcase full of equipment.
In Houston, at our layover, we were walking through the gate to our plane and were called back to the counter and charged an additional $350 for our remaining equipment when a managing agent got involved. This agent seemed intent on ignoring our pleas that they were personal instruments and aren't meant to be checked. All told, we spent $745 to get ourselves and our gear to Austin today.
I have flown with almost every major airline with gear and never had much of an issue. With United, there always seems to be an issue. Every agent I spoke with was short-tempered and looked run-down. It occurs to me that United probably has not adequately addressed their company culture.
I realize it's partially a fluke and that all airlines can demonstrate inflexible behavior, but in the face of other notorious cases of United literally assaulting their customers, it feels significant that they would still treat their customers -- and evidently employees -- with such disregard, though I intend in no way to conflate our experience with assault -- there is no comparison to be made.
I find this equally an opportunity to check my privilege. At the end of the day Emily Westman and I can afford a one-time price gouging. We'll still have a great time in Austin and put this behind us. I feel for folks who don't have the means to recover as easily — folks like us who rely on their art to cover unexpected and effectively hidden business costs. It's a shame.
I promise I'm going to go enjoy this festival, but United needs to be heavily scrutinized - our interactions with agents today were each aggressive, disparaging and ultimately humiliating. This story goes far beyond our experience and my personal comprehension. There is a culture at United that needs to be addressed -- until then, please consider utilizing any other airline.
We won't make the mistake of booking economy tickets with United again. I know Alaska Airlines has a fantastic mileage program and we will likely move our business to them permanently. Any other airlines you guys enjoy working with? Any tips for us or artists like us who tend to go with the cheapest ticket option on 3rd party sites without reading the fine print and have armfuls upon armfuls of untold gear to transport?
Please, share your airline stories so we can all be a little better informed, and/or share this story if you think someone you know might benefit from the information!
YOU SHOULD KNOW
Sisters (Emily Westman and Andrew Vait)
Friday, March 16, set starts about midnight
Maggie Mae's, 323 E 6th Street
Austin TX; (512) 478-8541