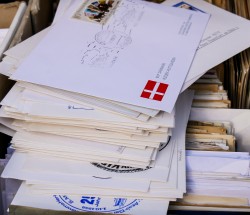 To The Editor:
A few years ago, you folks were generous enough to print my satirical commentary on Measure 3 (By the way, I make fun of my own state too). This time I have included an open letter below in response to the current proposal under way to facilitate accidental car-on-human injury or death. Once again, from your perspective within the state, you will know better than me as to whether this is behind the curve or adds to public discourse as much as any attempts at humor about serious issues. Either way, I hope you enjoy it. Thank you again for your consideration.
Dear North Dakota Legislators:
I was elated when I learned of the law currently being considered in your state, the law in which a driver who accidentally kills a pedestrian will remain innocent. Finally, I feel as though a governmental entity is expressing concern for the stress I go through as I navigate streets that have only grown more difficult as more pedestrians -- for whatever ideology – behave as though the city laws do not apply to them. We drivers have done nothing to deserve the dangerous circumstances created by their behavior in the streets. Thank you for proposing a law that addresses this need for order in public space.
I understand this rule is contingent upon the victim being involved in a protest at the time of said accident. Here in Florida, the time it takes some of my peers to cross the street, you could make a case for activist motives. And the way they shout and wave their arms – and even curse! – I am willing to suspect as much. Again, kudos to you.
I'll get to the point: since I've begun spreading the good news in my retirement community, half my shuffleboard team wants to know how much residence time in North Dakota would be required to obtain driver licenses in your state. We are also wondering if this licensing procedure could erase charges weathered from our own state Department of Motor Vehicles.
Our deceptively sunny state uses city maintenance in a cold, heartless manner that makes driving difficult for seniors. The crosswalks are less clear than ten years ago. The newer stop signs are smaller. I have my suspicions about the traffic lights as well. There's always a political angle, as you folks were astute to point out. For instance, our litigious -- and activist! -- culture encourages people to exaggerate the effects of injuries unrealistically. Moreover, Florida uses harsh terms for events that might not even be a crime in your forgiving state. "Vehicular manslaughter" indeed. My friends and I can't wait to become snowbirds again and spend a few summers in North Dakota.
We are considering property in suburban Bismarck for this summer. Perhaps we could start a shuffleboard league and visit multiple communities once your fine state restores our legal status. I myself am quite the architecture aficionado and cannot wait to make several drives to see your state capital and other government buildings of Bismarck. We hope to thank you personally for your brave stand if we are so lucky as to run into you.
-Jonathan Segol
Florida