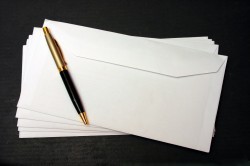 To the editor:
As candidates for the state legislature from District 22, we agree with the position of the Concerned Citizens of Buffalo regarding the proposed factory hog farm in their community. Our strong belief is that the issues raised by the Concerned Citizens are legitimate and pressing -- among these are risks to human health, the impact on the town's water and air quality, decreased property values, adequacy of manure disposal, excess soil nutrient runoff, and interference with school bus and emergency vehicle traffic.
It's also our belief that the laws and permits identified as pertaining to this issue are either lax, don't exist, or haven't been properly followed. As a result, the next Legislative Assembly should enact laws and strengthen the permitting process to better regulate industrial farming operations like the one proposed in Buffalo. Without much stronger safeguards in place, corporate "factory" farming operations could soon be setting up shop in the backyards of many communities across the state.
Without question, the nature of domestic livestock farming has changed dramatically over the last 40 years, with farming operations increasingly run by multi-state or even multi-national corporations, rather than local families. This June, North Dakotans made their voices heard on the question of corporate farming when they overwhelmingly defeated (by a vote of 76%) Ballot Measure 1, which would have allowed corporations to operate large hog and dairy enterprises in North Dakota. Over its history, North Dakota's anti-corporate farming law has served our state and its citizens well by keeping land and profits in the hands of local farmers and in our communities.
Above all, we recognize and greatly appreciate that agriculture is and will continue to be the major driving force in our state's economy. Our personal heritage goes back to being raised on a farm or having other family members gain their livelihoods through farming. We would welcome and invite any and all opportunities to visit and listen to the concerns of farmers and, if elected, work hard to improve the local agricultural economy in our state.
-Steven Allard, Marijo Peterson, Dr. Allan Peterson DVM
Horace, N.D.