Close down the campus police departments
by Rob Port | .(JavaScript must be enabled to view this email address) | Say Anything | October 1st, 2015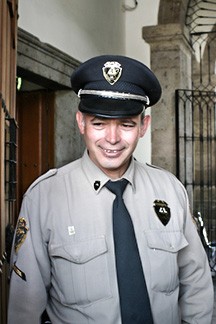 Earlier this year the North Dakota Supreme Court found that it is illegal for campus police departments to be patrolling off campus. The jurisdiction for campus cops is the campus, the court ruled.
This has created some consternation in certain quarters. In Fargo, for instance, where the aforementioned court case originated, campus cops at North Dakota State University have been spending a significant amount of time patrolling off campus. These patrols were producing revenue from citations and fines for the City of Fargo, in keeping with a memorandum of understanding signed between the city and NDSU, even though the campus cops are paid for by state, and not municipal, tax dollars.
A pretty sweet deal for Fargo, to be sure, though one that's not so great for state taxpayers. But the courts put an end to it.
Except, now the North Dakota Chiefs of Police - a law enforcement advocacy group - want the Legislature to make it legal for campus cops to patrol off campus. "Campus police officials believe prohibiting campus police from arresting drunken drivers near universities puts the public at risk," reports Emily Welker for the Fargo Forum.
Getting lawmakers to ratify the pre-court ruling status quo is a bad idea for a number of reasons. Rather than expanding the jurisdiction of campus police to off-campus areas, lawmakers ought to consider closing down campus police forces altogether.
First, campus police forces are redundant. They are tasked with patrolling tiny areas within the jurisdictions of existing law enforcement agencies.
Campus police forces aren't just patrol officers, nor are they flashlight-wielding security guards. They have become full-blown police departments complete with the command structure and infrastructure requirements of any law enforcement agency.
There is no question that our campuses, unfortunately, have very real law enforcement needs, but why reinvent the wheel? Rather than having a separate police force for each campus, why not have a municipal or county law enforcement agency task-dedicated personnel to patrol the campuses specifically?
We could move the necessary personnel from the existing campus police forces into the existing sheriff's or city police departments, and eliminate the redundant positions. Not only would that create a more efficient situation for taxpayers but it would also address the second problem with campus police forces which is the conflict of interest issue.
Crime on campus – particularly the issue of sexual assault – is a major concern, making headlines across the country. One aspect of that issue is how institutions of higher education adjudicate accusations of crime on campus. When the police force tasked with investigating campus crimes, and making arrests, also works for the campus administration there's a problem.
Better those cases be handled by law enforcement departments outside of the campus administration's hierarchy.
Which brings us to the last point, which is that campus police are supposed to be about campus security. If there is a need for more off-campus patrols to address issues like drunk driving, as the police chiefs' group claims, then off-campus law enforcement agencies should address it.
Yet it seems clear that the siren song of revenues from off-campus patrolling have distracted campus cops from their primary mission. So let's end the temptation by eliminating the on-campus departments. Campus security that is the responsibility of a contingent of the local municipal police force, or local sheriff's department, is less likely to get distracted from their primary duties by off-campus opportunities for ticket writing.
Or, at least, they won't be any more distracted by revenue than any law enforcement agency is.
We all want safe campuses for our students, but campus police departments aren't the best way to go about accomplishing that goal. They're redundant, they have serious questions about conflicts of interest, and ultimately there is a problem with mission creep toward off-campus patrolling.

Lawmakers need to address this situation, but instead of rubber-stamping the problematic and wasteful status quo they should opt for something better.