Farmers Union has a credibility gap on corporate farming referendum
by Rob Port | .(JavaScript must be enabled to view this email address) | Say Anything | June 24th, 2015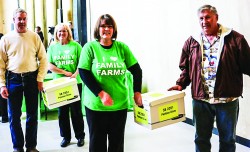 With the North Dakota Farmers Union having turned in over 22,000 petition signatures to refer the Legislature's reforms to our state's corporate farming ban to the June 2016 ballot voters will likely be debating this archaic law thoroughly in the coming months.
Yet, already, the Farmers Union folks have a serious credibility gap on the issue.
For one thing, let's keep in mind who the Farmers Union people are. They founded Cenex, the almost ubiquitous gas station and convenience store chain seen all over the upper Midwest. They also started Farmers Union Oil and an insurance enterprise. Now they're going to launch a campaign where they lecture us about the evils of swine and dairy farm business models that legally allow more than just blood relatives run them?
The Farmers Union folks would probably tell us that they run cooperatives, not corporations, but an honest observer might have problems discerning the practical difference in 2015.
For another thing, in touting their apparently successful referendum petition drive, the Farmers Union operatives have misled the public about the nature of that effort.
"More than 250 volunteers and Farmers Union staff and members collected the signatures in just 75 days, [NDFU] President Mark Watne said during a news conference at the Capitol, calling it 'truly a grassroots effort' that validated the group's position," reported the Fargo Forum's Mike Nowatzki recently.
But would a truly "grassroots" effort involve paid petitioners? The NDFU submitted an Intent to Remunerate form to the Secretary of State's office, something that is required when a ballot measure or referendum committee plans to pay petition circulators.
The existence of a form like this doesn't mean that the signatures on these petitions weren't collected by an army of volunteers, so I checked in with Kayla Pulvermacher, the Director of Member Advocacy for NDFU, and asked her for some details on paid petition circulators versus volunteers.
"We had over 250 unpaid volunteers getting petitions across the state, and they gathered over 21,000 in a very short period of time – the very definition of grassroots," Pulvermacher informed me in an email. "Some of our staffers (around 17) were also involved in gathering petitions, and they were paid as required by law."
That certainly makes it sound like volunteers did most of the work, but when I sent Pulvermacher a follow-up email asking for a breakdown of the signatures gathered by volunteers versus signatures gathered by paid petitioners she didn't respond.
Her silence speaks volumes, I think.
But thanks to transparency requirements for petition campaigns we don't have to rely entirely on NDFU to come clean. According to the Secretary of State's office the organizers of the petition drive have filed financial disclosures. The committee formed to circulate the petitions – officially the Corporate Farming Referendum Sponsoring Committee – didn't report any expenditures, but the North Dakota Farmers Union sure did.
"The money used to pay circulators and the other expenses incurred was paid by the North Dakota Farmers Union and, according to the NDCC, North Dakota Farmers Union is required to file an Independent Expenditure, which they did," Lee Ann Oliver, Elections Specialist at the Secretary of State's office, told me in an email.
According to that report, NDFU spent over $41,000 on the petition drive including over $39,000 in payments to NDFU employees.
In what universe is a "grassroots" or "volunteer" campaign organized by 17 political professionals funded by tens of thousands of dollars from one of our state's most powerful lobbying groups?
To be clear, nothing the Farmers Union did is illegal or even unethical. But it isn't surprising that they're working so hard to brand what was clearly the work of professional political operatives as a "grassroots" effort.
No doubt the supporters of this referendum plan on striking an oh-so-populist tone as they move forward, but buying their way onto the ballot doesn't exactly jibe with that narrative.