​For the Fourth Amendment
by Rob Port | .(JavaScript must be enabled to view this email address) | Say Anything | January 21st, 2015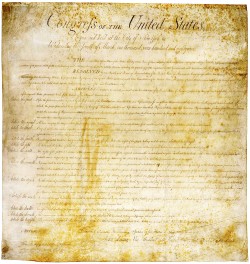 Should it be illegal to exercise your Fourth Amendment rights? A North Dakota law recently upheld by the state Supreme Court does just that.
In 2013, lawmakers, pressured by hyperbolic newspaper editorials and activists who went so far as to park a car wreck on the steps of the capitol, passed a number of changes to DUI law. Among those changes was the decision to treat refusal of a chemical sobriety test as a crime.
Previously the law treated such a refusal as a civil matter, with the state taking action against a DUI suspect's driving privileges. But section 39-20-01 of the Century Code now states: "Refusal to take the test directed by the law enforcement officer is a crime punishable in the same manner as driving under the influence."
This is problematic. The Fourth Amendment to the U.S. Constitution guarantees each citizen the right to be secure in their "persons, houses, papers, and effects" from searches without warrants. North Dakotans are doubly protected as the same language appears in Article I, Section 8 of the state constitution.
Law enforcement officers must ask your permission to search your car or to take blood from your body because, absent a lawful warrant, you have the right to refuse the search.
The state cannot simply enter your home and search it. Nor can they strap you down and forcibly take your blood for use in criminal proceedings against you. Your rights protect you from these things.
They're supposed to, anyway. In North Dakota, exercising some of those rights is now illegal.
In a unanimous decision issued in North Dakota vs. Birchfield, the justices (including Gerald Vandewalle, recently feted with the state's top honor, the Rough Rider Award) held that it was constitutional for lawmakers to criminalize the exercise of your Fourth Amendment rights in declining a chemical sobriety test.
We can all agree that we have an interest in catching and convicting drunk driving offenders, but does that worthy cause justify the violation of the Fourth Amendment?
Or the First? Or the Fifth? Or the Sixth?
Certain religions have very strict doctrinal beliefs about the removal of blood from the human body. If someone objects to a blood screening for alcohol or drugs on religious grounds, are we to find them guilty of a DUI for exercising their First Amendment rights?
The Fifth Amendment prohibits "double jeopardy," or the trying of a person twice for the same crime. Since it is possible to charge a person both with a DUI, and for "a crime punishable in the same manner as" a DUI for refusing a chemical test, is that not double jeopardy? Or trying a person twice over for the same crime?
Further, the Sixth Amendment guarantees every American the right to "have the assistance of counsel for his defense." A person who has been arrested, and who is being pressured by law enforcement for assent to a search, might reasonably feel confused and desire consultation with legal counsel before making any decisions.
Could law enforcement deem the delay of a chemical test until a suspect's lawyer can be contacted as a refusal punishable by a crime?
Drunk drivers are not typically looked upon sympathetically by the public, for understandable reasons. Yet our constitution guarantees certain clearly defined rights to even the most heinous of criminals.
What if the law made it a crime on part with theft to decline a warrantless search of your home for stolen goods? Would the public not be outraged?
Should we not be similarly outraged that lawmakers would make it a crime to decline a warrantless search of our persons? And that our courts have upheld the law?
DUI law can be an emotional corner of public policy. Unfortunately during the 2013 legislative session it was emotion and not logic which led to the implementation of this poor public policy.
Let's hope a future legislature -- perhaps the one convened now in 2015 -- will undo this mistake.