​Improving North Dakota's open records policy
by Rob Port | .(JavaScript must be enabled to view this email address) | Say Anything | August 26th, 2015
North Dakota is generally a very transparent state, due in no small part to open records laws that are very simple and very broad.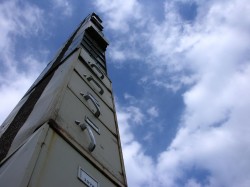 But there is room for improvement.
Case in point, three years ago North Dakota State University women's athletics director Lynn Dorn was suspended without pay for some sort of inappropriate behavior involving a student. Dorn has since moved on, but the public has never been made privy to what happened.
According to NDSU's lawyers, the specifics of Dorn's misconduct can't be released because of federal student privacy laws. Some observers (including this one) think that's bunk.
"In the university setting, literally every employee would have something to do with students at one time or another," North Dakota Newspaper Association attorney Jack McDonald told the Grand Forks Herald about the Dorn situation. "It's a stretch to say, in most instances, that because you're investigating a university official, it's closed by FERPA."
[FERPA (Family Educational Rights and Privacy Act of 1974) is federal legislation in the United States that protects the privacy of students' personally identifiable information (PII). The act applies to all educational institutions that receive federal funds. Source: searchsecurity.techtarget.com]
This problem with the universities using their lawyers to keep the public in the dark has been addressed by the legislature. Starting this year the university's lawyers now work under the Attorney General.
We can do more, though, and Attorney General Wayne Stenehjem has appointed a task force of individuals (including myself) to review our state's existing laws and identify areas for possible reforms.
The way the law works now is very simple. If you want a piece of information from any level of state government you need only ask for it. You can make your request in person, via letter, by email, with a fax, or with a phone call.
The entity you're requesting records from is then required by law to give you a response. They either must turn the information over to you or they must deny your request citing the specific statute allowing them to deny it.
If you disagree with the reasoning for a denied request, you have the right to request an opinion from the Attorney General's office to determine whether or not your request was denied lawfully.
There are some loopholes, however, and some of our public servants have unfortunately learned how to exploit them.
For one thing, the entity you request records from does not have to create a record for you. This means that if you ask for, say, a list of homes in your city painted red, the city doesn't have to create that list for you. They only have to provide it if such a list already exists.
The reason for this loophole is obvious -- we don't want our public servants sent on endless wild goose chases by gadflies -- but it can leave a member of the public who might not be familiar with all the reports and lingo of governance fishing in the dark.
Another problem are the fees public entities are allowed to charge for records. Generally public entities can charge you $25 per hour for accessing records for you (the first hour is free), and $0.25 per copy. Sometimes these fees can be inflated as a way to dissuade a member of the public from obtaining a record.
I was once told by an attorney for NDSU that accessing some emails from President Dean Bresciani's account would cost me over $2,000. Thinking that price was ludicrous I requested an opinion from the AG's office, and it turns out I was right. I ultimately got the records for free.
Yet that situation revealed another problem, which is that getting an opinion from the AG's office simply takes too long. NDSU ultimately had to give me the emails I requested, but the process took six months and the consequences for the university, which tried to block my request, was little more than some bad press.
How open is a record, really, if your access to it can be blocked illegally for half a year or more with zero consequences for those doing the blocking?
Stenehjem's task force will meet for the first time in September. These are the issues I hope to to bring up to the other members, and I believe we can find ways to address them for the sake of a better informed public.