​In Kelley retirement we see hint of larger higher education problems
by Rob Port | .(JavaScript must be enabled to view this email address) | Say Anything | June 17th, 2015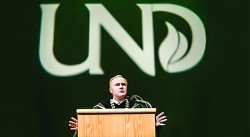 Over the past year one of North Dakota's most prominent and highest paid public officials has presided over a revolt from his customers and employees, a costly bailout of a supposedly private foundation, and an ugly brawl with the former head of an affiliated organization that's now headed to litigation.
Yet, despite this not-at-all exhaustive list of problems, this public official has got a glowing and thoroughly uncritical review from his superior.
How can that be?
University of North Dakota President Robert Kelley announced his resignation recently after the better part of a decade at the helm of the state's oldest institution. Kelley claims his departure has nothing to do with a near-miss vote of no confidence from the student government earlier this year, or a less-than-flattering survey of UND employees released at the same time he made his announcement.
This claim is a little hard to believe.
Kelley will step down on January 14, 2016, which is five and a half months before his very lavish contract is up. Kelley is making $350,265 per year, or $29,188.75 per month. Leaving early would presumably see Kelley leaving behind over $160,000 in salary, assuming he doesn't get some sort of a golden parachute separation agreement. After all, former Chancellor Hamid Shirvani hasn't been on the job for two years and he's still collecting his six-figure salary from the taxpayers.
But I digress.
Kelley leaving in January as opposed to June 30, 2016, would have him missing the spring commencement. You'd think a university president leaving on good terms would want his last $160,000, not to mention the opportunity to preside over one last graduation ceremony.
But Kelley is most certainly not leaving his post on good terms.
The UND Student Senate was ready to pass a resolution calling for Kelley's resignation, along with many of his top staff, before the two sides reached an agreement calling for a better working relationship. And just as Kelley was announcing his resignation the UND employees weighed in with a survey that, while not specifically a vote of no confidence, could certainly be seen that way.
Of the 47 percent of UND employees who took the anonymous survey some 54 percent said Kelley's office is "not at all" or "not very" transparent, 43 percent said Kelley's office is "not at all" or "not very" open, and 35 percent said they have no confidence in Kelley's office with another 23 percent saying they are "neutral."
Kelley's hand-picked provost, Thomas DiLorenzo, got even poorer marks.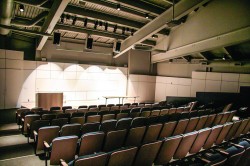 We can keep going with Kelley's laundry list of poor performance, too.
How about the fiasco with the REAC building, which was owned by the now-defunct UND Research Foundation, but was such a financial disaster it had to be dumped on the taxpayers in a deal that left lawmakers angry? Kelley was at the center of both the original REAC building project and its roughly $10 million bailout.
Or how about the ongoing fiasco that is UND's Energy and Environmental Research Center? When the longtime head of this organization, Gerald Groenwald, was sent packing last year, Kelley stonewalled media inquiries about it. Now Groenwald has filed a lawsuit alleging discrimination against the State Board of Higher Education and Kelley.
We'll have to see how the suit plays out to judge the merits of Groenwald's case, but it's clear Kelley could have handled the situation better, and the taxpayers will, at the very least, be footing the bill for some costly litigation.
And despite all of this, Chancellor Larry Skogen has given Kelley a glowing assessment in his last review. "You have been an excellent leader at UND in a time of unfortunate turmoil," Skogen wrote.
A more objective observer might suggest that Kelley was the actual cause of a great deal of that "unfortunate turmoil."
Regardless, that Skogen would see fit to shower hagiography down on Kelley amid a sea of scandal and rancor is emblematic of everything that's wrong in North Dakota's big, bloated, opaque and completely out of control university system.
They are living in their own version of reality, one in which their only real problem is that people keep perceiving their problems.