It's time for North Dakota to register voters
by Rob Port | .(JavaScript must be enabled to view this email address) | Say Anything | September 24th, 2015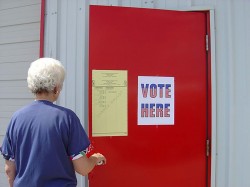 One laugh-out-loud moment from the 2014 election cycle saw Democrats releasing polling showing state Senator George Sinner with a lead in the U.S. House race over incumbent Kevin Cramer.
This is a common tactic. The political parties like to deploy their pollsters to "leak" polling information to journalists in order to manufacture favorable horse race headlines for their candidates. In this instance it was the Democrat-aligned Mellman Group claiming that Sinner was leading Cramer among a registration-based sample of North Dakota voters.
What had this particular maneuver eliciting chuckles from political observers in North Dakota (aside from the poll showing Sinner winning; he ultimately got creamed at the polls) is that "registration-based" thing.
You see, North Dakota doesn't have voter registration, and you can't exactly poll registered voters in a state that doesn't register them.
The mistake is understandable. When the Democrat operatives were slapping together their propaganda, they probably just copied and pasted some text from similar propaganda they used in other states. It's easy to forget that North Dakota is the only state in the union without voter registration.
Maybe it's time for that to change.
The Legislature is supposed to be studying the change during the interim before their 2017 session, though the idea got a cool reception at a recent meeting of the interim Judiciary Committee. That study was the result of a fight over voter ID legislation earlier this year. The argument is that, with our state's current voter ID requirements, we basically have voter registration anyway. Why not just go the rest of the way?
That's a solid enough argument, I suppose, but more compelling to me is the fact that state law requires the political parties to choose their candidates on the statewide ballot with no process for ensuring that the people choosing, say, the Republican candidates are actually, you know, Republicans.
There is always much hubbub in the spring of election years around the state party conventions where the Democrats and Republicans endorse their candidates. But those events only see party members endorsing the candidates. The nominations don't actually happen until the June ballot, when anyone can vote for who the nominees are even if they've never shown up for a Republican or Democrat party meeting.
Heck, they may not even want to be a member of a political party, yet state law requires that they be allowed to vote for the political party nominees.
That doesn't make any sense. We're not talking about voting on who will win the election. We are talking about voting for who will be the Republican candidate and the Democrat candidate, etc., etc.
The whole idea of state law dictating the candidate selection process to private political parties is absurd. The parties are private organizations of citizens. If, say, the Democrats wanted to select their candidates by way of an arm wrestling match that would be silly, but they should be allowed to do it. It's their party and their candidates.
But if we're going to require that state parties select their candidates through a statutorily mandated process which includes an open statewide balloting, the least we could do is require that voters register themselves as party members and be restricted to voting only for their party's slate of candidates.
If you don't want to be a Republican or a Democrat, that's fine! Lot's of people make that choice, and there's not a darn thing wrong with it. But then why should you get a say in who Republicans or Democrats pick as their candidates?
This is something that needs to change in state law. I'm not sure voter registration is the answer, but it would at least be an improvement.