​Lets get more teachers by cutting the red tape
by Rob Port | .(JavaScript must be enabled to view this email address) | Say Anything | August 12th, 2015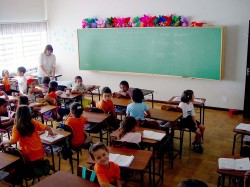 North Dakota has a teaching shortage, and state Superintendent Kirsten Baesler thinks we can address it by slashing through some of the red tape surrounding the process by which one becomes a teacher.
She has asked the state's teaching licensing officials to allow "community experts" to fill teacher positions. It's a recommendation from a task force she's formed to address teacher shortages in the state.
"Community experts" are people with expertise and training in a given subject but who don't have a specific teaching degree. An example would be someone with a four-year music degree getting a job as a music teacher despite not having a teaching degree. Or perhaps someone with experience in the building trades taking over a shop class.
It's an emergency rule, and must be approved by Governor Jack Dalrymple, but so far this seems to be something that will likely happen. That's a good thing.
In fact, the only real problem is that we weren't already doing this as a matter of permanent policy.
"Content knowledge is just half of what it takes to be a good teacher," Baesler is quoted as saying in a Fargo Forum article about her initiative. I would hope that content - what math teachers know about math, and what science teachers know about science - is more than just 50 percent of what makes a good teacher.
Teaching method is important, sure. The most brilliant mathematician in the world isn't going to be worth a fig in the classroom if he or she cannot deliver knowledge to students effectively. Even so, it seems to this observer that teaching qualifications today seem to emphasize methodology over knowledge and experience.
And might that not be a part of what's wrong with our schools? For years, both here in North Dakota and nationally, we've struggled with education mediocrity. American students generally rank well behind students from other nations in all manner of academic measures.
This has prompted much finger pointing over the why of those lackluster outcomes. Some say teacher unions are to blame. Others say it is that we aren't spending enough on education. Still others say we have too little school choice, or too much top-down education policy coming from Washington D.C.
Education policy has far too many variables to isolate any one as a factor in less-than-optimal outcomes, but perhaps one we ought to be talking about more is what sort of prerequisites we have for becoming a teacher.
I am a product of the North Dakota public school system, and I have two children currently attending public schools in this state as well. Based on that experience, I can tell you that some of the best teachers I've come across are those who came to teaching after first working in another career field.
This isn't surprising. Imagine being taught chemistry by someone who went from high school to college and then straight into teaching versus someone who actually worked in the field first. The first isn't necessarily a bad teacher, but which of these teachers is more likely to inspire a students a passion for the subject matter?
The teacher who actually worked in a chemistry-related field, or the teacher who has only ever experienced chemistry in a classroom?
Again, North Dakota has a teaching shortage, and it would be a shame if Baesler's efforts to ease that shortage were bogged down in politics. The state's teachers union - North Dakota United, which has absorbed the North Dakota Education Association - has yet to weigh in publicly on this proposal but I think we can guess their reaction to it.
Unions, by definition, are about protecting the earning power and job security of their members. Occupational licensing regulations are one of their most powerful weapons. A policy widening the pool of potential teachers does not further their goals, even if it might improve the quality of education.
I suspect some - perhaps ND United - will try to write Baesler's proposal off as an effort to lower standards for teachers, but we really ought to think of it is creating a different, and better, set of expectations for what makes a good teacher.