North Dakota's newly assertive Legislature
by Rob Port | .(JavaScript must be enabled to view this email address) | Say Anything | February 11th, 2015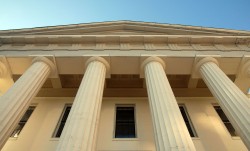 If there is one political debate that has persisted since the dawn of the American republic, it is the never-ending competition between the legislative and executive branches of government.
The debate has its roots in George Washington's administration when Thomas Jefferson and Alexander Hamilton sowed the first seeds of partisan politics.
Hamilton believed in "energy in the executive," as he put it in the Federalist Papers, promoting an executive branch with powers bordering on those of a sort of elected monarch.
Jefferson, on the other hand, believed in a more distributed form of government that put more emphasis on the will of the people and their elected leaders in the legislature.
That debate continues to this day, both in Washington, D.C. and in state capitals around the nation. North Dakota is no exception.
Our state has taken a more Hamiltonian approach with a legislature that is very restrained in its authority. Our lawmakers serve only part-time. They are empowered to act only within sessions that can last for no more than 80 days every two years, according to the state constitution.
"They have two years to prepare to fool us for 80 days," is in oft-heard comment among lawmakers talking about executive branch agencies having an edge over part-time lawmakers.
And the lines between the state executive and legislative branches are often very blurry. While at the national level there is a very real problem with bloated regulatory agencies such as the Environmental Protection Agency or the Internal Revenue Service using their rule-making ability to act as de facto legislatures, here in North Dakota the executive branch can actually legislate.
Every session sees many bills introducing direction from the executive branch without any need for sponsorship by a member of the legislative branch.
North Dakotans seem to like this Hamiltonian approach. Bills and ballot measures to create a full-time legislature, or at least a part-time legislature that meets more often and/or for longer, are routinely defeated. North Dakotans often tend to talk about their legislature as so many busy-bodies who muck about in things like higher education or local governance where they don't belong.
As someone of a more Jeffersonian bent, this attitude leaves me mystified and chagrined.
But there is evidence of late that our state legislature is seeking to flex its muscle in some important ways.
For instance, lawmakers are taking more of an interest in their duty to "advise and consent" to executive branch appointments. Most notably, Gov. Jack Dalrymple's nominees for the State Board of Higher Education have been put through the wringer.
Kirsten Diederich stepped down as president of the board rather than face what promised to be a rough confirmation hearing from senators. Kevin Melicher, a Dalrymple nominee who has been serving on the board for the last seven months pending the Senate's approval, was ultimately confirmed by a narrow three-vote margin.
During a lengthy floor debate over the question of confirmation, Senate Minority Leader Mac Schneider voiced his reluctant support for Melicher, but expressed support for senators serving as something more than "potted plants" during the confirmation process. He said he hoped the floor fight over Melicher served as a "soft lesson" for the North Dakota University System.
No doubt, he was hoping the executive branch got that message too.
Over in the Legislature's other chamber, state representatives were taking the executive branch to task over regulatory overreach. Legislation introduced by Rep. Keith Kempenich, a Republican from Bowman, would require that rules of "general applicability" created by the North Dakota Industrial Commission (which oversees oil and gas development in the state) must be approved by the Legislature's Administrative Rules Committee.
In the past year, the NDIC has passed some very controversial rules related to oil conditioning and so-called "special places" restrictions on energy development. Some lawmakers see those rules as evidence of the executive branch crossing the line from regulation into legislating.
"You have to remember why we are here," Kempenich told his fellow lawmakers during a floor speech in favor of the legislation. It passed by a wide margin.
It remains to be seen what will happen to the bill in the Senate, but this Jeffersonian observer is enthused to see lawmakers asserting their role.