Proud to be a Neanderthal with cleaner air than Minnesota
by Rob Port | .(JavaScript must be enabled to view this email address) | Say Anything | September 3rd, 2015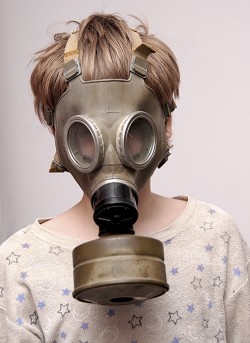 Minnesota Gov. Mark Dayton, a Democrat, had some sharp words for the approach to climate policy taken by his state's Republican-led western neighbor.
"These other states like North Dakota ... just have their heads in the sand and want to profit and then pollute our air accordingly," Dayton said during an interview with Minnesota Public Radio while praising his own state for meeting climate goals.
He also reportedly used the term "Neanderthal" to describe North Dakota's policies.
Dayton's comments aren't terribly surprising. The progressive view of what was once called global warming (but is now called "climate change" given the globe's stubborn refusal to warm all that much) has become more an ideology, perhaps even a theology, than a rational and scientific point of view. Thus what matters more to people like Dayton than facts or reason is fealty to the climate change faith.
Fossil fuels are evil. The apocalypse is coming. Only big government can save us.
From that point of view, yes, North Dakota is home to climate change heretics. Or "Neanderthals," to use Dayton's word choice.
Unfortunately for Dayton, reality isn't terribly kind to his position.
For one thing, North Dakota has better air quality than Minnesota. The 2015 State of the Air report from the American Lung Association gave North Dakota perfect grades for air quality. The state got perfect grades in 2013 and 2014 as well.
Not good grades. Not great grades. Perfect grades.
And that's not for want of trying to find dirty air in the state. The group measured air quality in some of North Dakota's most heavily industrialized areas. Among the locations where air quality was measured were Mercer and Oliver counties, home to most of the state's coal-fired electrical generation. Billings, Burke, Dunn and McKenzie counties were also measured and all are in the state's oil patch and home to a lot of drilling, pumping and natural gas flaring.
Every one of those counties got an "A" grade.
Minnesota, unfortunately, didn't match North Dakota's perfect score. Of the fourteen counties measured in that state, four got only "B" grades and one county got a "C."
Those aren't perfect grades. They're not even that great. Maybe Minnesota could be doing better like North Dakota.
For another thing, Minnesota's position on emissions policy has been somewhat hypocritical at times. Case in point, the lawsuit North Dakota filed (and won) against Minnesota over prohibiting the latter from importing coal-fired electricity from the former.
Supposedly the blatantly unconstitutional law in question was about saving the environment, but one of North Dakota's contentions was that it didn't apply to coal-fired electricity originating within Minnesota's borders.
Minnesota was essentially arguing that North Dakota's exported coal power is bad for the environment, but somehow Minnesota's domestic coal power isn't.
Dayton is vowing to continue his state's quixotic legal fight to uphold that law, as is befitting a true believer in the climate change faith, but one has to wonder if the motivation is really about the environment or just rank economic protectionism.
As for profits, well North Dakota's probably guilty as charged there too. Unlike those of a progressive bent who see the government's proper adversarial to business and industry, in North Dakota leaders take a more cooperative stance. Rather than punitive regulations and penalties, North Dakota looks to work with industry to achieve mutually beneficial ends.
That may be because North Dakota is still so closely tied to its agrarian roots. According to the Census Bureau, in 2014 North Dakota was one of just two states remaining in which the most common job was farming. And what is farming if not industry?
Farmers are deeply invested in protecting the land, but they're also invested in being able to use the land. Thus, is it all that surprising that a state dominated by farmers would elect leaders who make it their goal to balance environmental protection with actually being able to, you know, do stuff?
That sort of pragmatism has worked in North Dakota. And perhaps if hidebound, narrow-minded zealots like Mark Dayton could come down off their ideological high horses for a moment they might learn a thing or two.