The biggest problem with Heitkamp's Iran vote was the hypocrisy
by Rob Port | .(JavaScript must be enabled to view this email address) | Say Anything | September 16th, 2015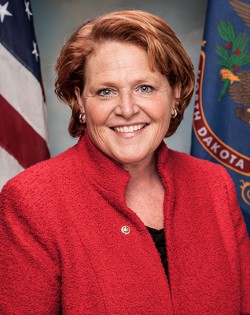 Sen. Heidi Heitkamp's position in the Iran deal may end up being a big deal for her political career.
A big deal on a number of fronts. In fact, this could be akin to the toxic vote on Obamacare North Dakota's former congressional delegation -- former Rep. Earl Pomeroy along with former Sens. Kent Conrad and Byron Dorgan -- cast back in early 2010.
It's notable that none of those men won another election in North Dakota after casting that vote.
Could the Iran vote prove as toxic?
First there's the extra-constitutional means by which the "agreement" with Iran was approved.
The Obama administration is careful to always refer to this long-term deal -- impacting the security of dozens of nation states, not to mention hundreds of billions of dollars worth of commerce -- as an "agreement" and not a treaty. That's because Article II, Section 2 of the Constitution states that the president can make treaties "provided two thirds of the Senators present concur," so if Obama doesn't call the agreement a treaty then that requirement is handily sidestepped.
No, I'm not kidding. And Heitkamp, who campaigned as a straight-talking moderate, voted to support that rhetorical chicanery.
Then there are the economic considerations for our state. The oil industry, along with agriculture, is central to North Dakota's ongoing prosperity. But with oil prices already in the tank, Sen. Heitkamp has voted to clear the path for Iran, a rogue state with a lengthy history of sponsoring international terrorism, to begin profiting from oil exports through its state-controlled oil industry.
Meanwhile America's oil producers -- including those companies operating in North Dakota's oil fields -- continue to operate under an archaic ban on exports. While some national leaders are optimistic that ban will be lifted -- Rep. Kevin Cramer has said that he feels it will be lifted by the end of the year -- it would have been nice to see Heitkamp use her position as a key vote on the Iran deal to leverage some sort of a guarantee from the Obama administration on lifting the ban.
As it is, there is no evidence Heitkamp even considered asking for such a pledge, which would have at least tempered the other negative aspects of the deal. This leaves American companies operating with less freedom than Iran's nationalized oil industry.
And let's not forget how Heitkamp used her vote to protect the Iran deal. She voted to uphold a filibuster of a resolution to block the deal. It's one of a half dozen votes for filibusters Heitkamp has cast since campaigning against filibusters in 2012 when she was elected.
If there was a theme to Sen. Heidi Heitkamp's 2012 campaign it was the idea that she is a pragmatic leader who would help cut through obstruction in Washington D.C. to get things done. On her still-active campaign website Heitkamp said there are "too many extreme politicians in Washington" who hold the country "hostage to advance their narrow political agenda."
Heitkamp was specifically against the filibuster, pledging to reform it during her campaign and casting a vote to obliterate it while a member of the Senate majority in 2013 and 2014.
During her term in office Heitkamp has also posed as a compromiser. "Compromise for so many people is a dirty word here in [this] town," she told a high school classroom earlier this year, calling her uncompromising colleagues the "hell nos."
Yet, on the Iran deal, Heitkamp helped a Senate minority block majority, bipartisan opposition. Heitkamp also voted five times to filibuster a Homeland Security appropriations bill earlier this year.
To be clear, Heitkamp campaigned against filibusters yet has voted for filibusters repeatedly in order to stymie what are often bipartisan majorities.
Heitkamp is only against the filibuster when her party is in the majority. Which isn't exactly what you'd expect from someone who campaigned as an independent.
Will the Iran vote cost Heitkamp politically? Her re-election in 2018 is a long way off, so it's hard to tell, but it seems likely it would have cost her, had she run for governor in 2016.