The folly of opposing due process revealed at UND
by Rob Port | .(JavaScript must be enabled to view this email address) | Say Anything | October 15th, 2015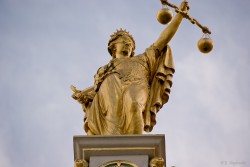 At the University of North Dakota last week a policy passed by state lawmakers, but opposed by North Dakota University System lobbyists, was vindicated.
During the legislative session earlier this year lawmakers passed due process protections for students accused of crimes on campus.
Since 2011 the Obama administration has stretched Title IX into a requirement that campuses adjudicate serious accusations of sexual assault and harassment on campus. What this has resulted in are kangaroo courts often presided over by inexperienced academics or administrators where the alleged victims have all the resources of the university working on their behalf, while the alleged perpetrators aren't even allowed basic tenets of due process rights including legal counsel, the right to cross examine witnesses against them, and the right to be made aware of the charges against them.
What North Dakota lawmakers did was pass a law countermanding the feds and creating statutory requirements for campus tribunals adjudicating incidents of non-academic misconduct serious enough to get a student or student organization suspended or expelled.
Put simply, state lawmakers are requiring that campus administrators give students due process.
The presence of this law on the books probably prevented a travesty at UND.
In August an 18 year old homosexual man named Haakon Gisvold told law enforcement that he'd been attacked outside of the Lambda Chi Alpha fraternity. He said he was stripped of his clothes and beaten by multiple men while they shouted anti-gay slurs.
The media was quick to pounce - stories about out of control fraternity members are good for readership, all the more if they involve an alleged hate crime - and so was the UND administration.
In a campus-wide email, UND President Robert Kelley acknowledged that the incident was under investigation but treated the accusations from the alleged victim as if they were the truth.
"This incident is even more disconcerting given that it followed the recent Grand Forks celebration of LGBT Pride," Kelley said in the email.
The problem is, after an extensive investigation by law enforcement professionals which included interviews with over 150 witnesses, it turns out Gisvold's story was false.
Gisvold "was not held down by four people, he wasn't robbed, his property wasn't taken, he wasn't beaten with a belt, and he was [not] assaulted," the police report states.
The law enforcement authorities involved are to be commended for their thoroughness and professionalism, but unfortunately during the month between when the accusations were made and the police report was finished, brothers at Lambda Chi Alpha were treated by sensationalist reporters and their university's administration as if they were already guilty.
Which is where the aforementioned legislation comes in. I spoke with state Senator Ray Holmberg, a Republican from Grand Forks who was the primary sponsor of the due process legislation, and I asked him if he felt it might have kept UND from acting against the fraternity and its members even before law enforcement acted.
"I think one could argue that yes," he told me. "Unfortunately in our politically correct world, campuses, and UND is one of them, have gone to the old Red Queen's approach to punishment. Her quote, 'Sentence first, verdict afterwards.'"
That's certainly what happened in 2009 to UND student Caleb Warner whose case was the inspiration for Holmberg's legislation.
Warner was accused of sexually assaulting another student and promptly expelled by a campus tribunal. But when the law enforcement professionals finished their investigation not only was Warner exonerated, but they pursued his accuser for filing a false police report.
Unfortunately for Warner, it took two years before the school reversed his expulsion. He wasn't allowed to attend classes again until 2011.
Could the brothers and Lambda Chi have suffered Warner's fate too, acted against by an overzealous administration anxious to make an example of them in light of politically charged accusations?
We shouldn't fall prey to the fallacy of the predetermined outcome. We don't know what would have happened. But I think the Lambda Chi brothers, and other students accused of misdeeds on a North Dakota campus, can sleep easier knowing they have some basic protections.
No thanks, unfortunately, to the people running our universities.