​University system chancellor gets his first challenge
by Rob Port | .(JavaScript must be enabled to view this email address) | Say Anything | July 29th, 2015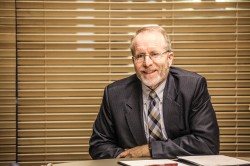 North Dakota University System Chancellor Mark Hagerott has an opportunity to prove what sort of leader he will be. How he responds to it will be instructive, going a long way toward showing whether he has the mettle to lead what has proven to be an almost ungovernable collection of egos and runaway bureaucracy.
More on that in a moment. First, some background.
In a recent interview with the Grand Forks Herald Hagerott shared some details from his "listening tour" around our state.
One of the questions Hagerott, who took over the job on July 1, says he's been asking is, "How better can my office and the NDUS communicate with legislators?"
He might have phrased that question differently, asking how the university system can better get along with the Legislature. Because let's face it, there is an acrimonious relationship between lawmakers and the university system.
Take the 2015 legislative session as an example. Lawmakers fed up with a never-ending stream of scandal and controversy coming from the universities decided to take their auditors and lawyers away.
The thinking was that auditors tasked with auditing their bosses aren't likely to do their jobs well, and the lawyers seemed to be spending most of their time helping the universities skirt open records and meetings laws.
The university-system lawyers and auditors were moved to the attorney general and state auditor's offices, respectively. So far it has been solid reform.
During the transition the university system suddenly discovered dozens of audits that weren't even being tracked to ensure that the problems flagged were actually fixed, and Attorney General Wayne Stenehjem has accused the university system of putting more legal resources into avoiding open meetings and records laws than complying with them.
"The SBHE often seems to devote an inordinate amount of time creating unsupportable legal arguments to justify violations of the open records and meetings law after the fact," Stenehjem wrote in an opinion issued this last November in response to an open meeting complaint I filed. "Devoting the same efforts to assure compliance before violations occur could go a long way to avoid these unnecessary and embarrassing incidents in the future."
That's a sad commentary on the level of integrity in our university system, and not surprisingly the reforms passed by the Legislature have not been popular with the system's status quo.
After the House passed their version of the reforms earlier this year the caterwauling from the universities turned a State Board of Higher Education meeting into a more than five-hour marathon meeting. Now North Dakota State University President Dean Bresciani has decided to thumb his nose at lawmakers and keep one of his attorneys anyway.
The attorney in question is Christopher Wilson, who is, if you ask lawmakers or staff at Legislative Council, the university system's chief obstructionist when it comes to open records requests. One of the people who "devote an inordinate amount of time creating unsupportable legal arguments to justify violations of the open records and meetings law," to use Stenehjem's words.
Lawmakers I've spoken to say their frustration with Wilson was a major part of why the university system's lawyers were put under the attorney general's office.
Wilson was set to lose his job because of the Legislature's reforms, but Bresciani created a new position for him and will keep him on the payroll.
Bresciani is "basically ignoring the Legislature" Rep. Roscoe Streyle, a Republican from Minot, told Forum Communications reporter Mike Nowatzki. "The only disappointment, which does not surprise me one bit, is Bresciani's game of shifting (Wilson) over just to keep him," he continued.
Here, then, is Hagerott's opportunity.
If the new chancellor is being honest when he says he intends to improve communications between lawmakers and the universities, then he should step in. Lawmakers have identified Wilson as an obstacle to communication with the universities. They specifically drafted and passed legislation to clear that obstacle.
Hagerott should stop Bresciani from openly and defiantly keeping that obstacle in place.
At some point, the universities must acknowledge that the legislature governs the state, and that they are not above the law.