We need to protect farmers from attacks
by Rob Port | .(JavaScript must be enabled to view this email address) | Say Anything | June 10th, 2015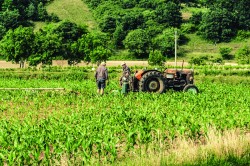 I don't spend a lot of time scrolling through Facebook because I have better things to do than be bombarded with misleading clickbait stories and personal drama of the sort some people insist on sharing with the global internet community. But the other day a friend of mine posed an interesting question in a post.
She asked, by way of provoking a discussion, what the most important discovery of all time was.
That got me thinking, because there are a lot of really good responses to a question like that, and it was fun to discuss the merits and demerits of all the possibilities. There isn't one right answer, but I think I arrived at the best possible response.
The most important discovery by humanity has been agriculture. There's no question in my mind about it.
One of the other commenters on the thread suggested that gravity was the greatest discovery. I'm not sure that qualifies - we were living with gravity long before the concept was "discovered" - but it rings up an interesting point.
Could Isaac Newton have been inspired to mathematically quantify gravity had he not seen an apple fall from a tree near his home? A tree that was no doubt planted and attended to by a farmer?
Could Newton have attended Cambridge to study the world and make great advancements to our knowledge of it if he weren't able to subsist on the toil of farmers cultivating land and husbanding animals?
Agriculture is our greatest discovery because it has made room in our lives for so many other great discoveries. Astronomers have time to gaze at the stars, engineers are free to build, and doctors can focus on fighting back disease because they can rely on farmers and ranchers to provide a consistent source of food.
Before agriculture, most human endeavor was tied up in finding enough food to survive. It was only after agriculture that we became free to do everything else worth doing.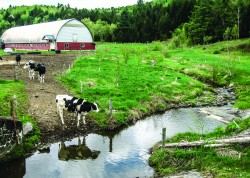 Yet today agriculture is taken for granted. Schools which teach agriculture are derided as "cow colleges." Most Americans, when asked to think of a farmer or a rancher, probably conjure up an image of some provincial rube who dresses funny and bangs around on dirt roads in a pickup truck on the way to a square dance.
What they probably don't consider is that the person they're thinking of, whatever their fashion or cultural choices, makes our modern way of life possible.
That's a major disconnect, and it explains a lot of environmental politics. Farmers are under attack in myriad ways, and not many Americans realize how dangerous a situation that is.
For instance, the EPA's new "Waters of the U.S." rule is potentially an expansion of federal regulatory authority to every mud puddle in America. Farmers are frightened of the impact this will have on their livelihood. "Wherever rain falls, water puddles or streams trickle, would become the regulatory prerogative of an unelected and unaccountable EPA and their bureaucrats," Pete Hanebutt, policy director for the North Dakota Farm Bureau, has said of the rule.
Self-appointed experts - most of them lacking any sort of meaningful expertise - rail against the use of pesticides and herbicides and genetically modified foods which are the cornerstones of modern farming. They tout organic farming, as though we could feed our modern society without modern innovation.
Speaking of which, according to data from the USDA, per-acre wheat yields have tripled since 1950, soybean yields have quadrupled, and corn yields have sextupled. Overall, agriculture now requires about 61 percent less land to produce the same amount of food.
That's nothing short of astounding. Yet, again, it is all taken for granted.
There are problems with American farm policy. There's no question that certain government programs have distorted markets and should be reformed. Yet, in recent times we seem to be moving in a darker direction, one where the very industry of farming seems to be under threat from an army of politicians, bureaucrats, and regulators.
We need to reverse that trend and let farmers farm. They seem to know what they're doing.