Wildfire haze can make us thankful
by Rob Port | .(JavaScript must be enabled to view this email address) | Say Anything | July 9th, 2015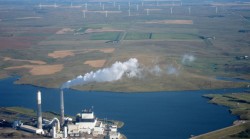 There is an aphorism which tells us that we do not appreciate what we have until it is gone.
Over the last couple of weeks we North Dakotans, forced to celebrate the anniversary of our nation's independence through a smoky haze blown down from Canadian wildfires, were left appreciating our state's normally pristine air quality. That's because it disappeared on us, at least temporarily.
After decades of coal development and a more recent uptick in oil-related industrial activity in western North Dakota -- including more flaring of natural gas than anybody is happy about -- it took the tragic wildfires our northern neighbors are grappling with to foul our air.
While the haze produced some truly remarkable sunsets, and turned the moon a startling shade of red at times, I think I can speak for all of us when I say that clean air is preferable.
"These are things that are new to North Dakota," Dr. Scott Knutson of the Trinity Emergency Trauma Center in Minot told KXMC television news about air quality warnings put out by the EPA. "We enjoy good air all the time. But if you live in a city, this is the regular smog indicators and the recommendations we would have for anybody living in those air quality environments."
Dr. Knutson knows what he's talking about. North Dakota normally has some very good air.
The 2015 State of the Air report from the American Lung Association gave North Dakota top grades -- perfect grades, in fact -- for air quality. The state got perfect grades in 2013 as well, despite Democrats at the time calling western North Dakota an "industrial wasteland," and top grades in 2014 as well.
To be clear, these grades are based on measurements in some of the most industrially active counties in the state. Mercer and Oliver counties are home to most of the state's coal-fired electrical generation, while Billings, Burke, Dunn and McKenzie counties are all in the state's oil patch and home to a lot of drilling, pumping and natural gas flaring.
In fact, McKenzie county is the top oil-producing county in the state and yet routinely has perfect air quality grades.
That's not something which happens by accident. Rather, it's a testament to something environmental alarmists and anti-fossil fuel political activists would have us believe is impossible: the safe and responsible development of fossil fuel energy.
The enemies of fossil fuels invest heavily in propaganda, pushing the idea that the development of oil and coal and natural gas is inherently irresponsible.
"There is no such thing as clean coal," the Natural Resources Defense Council states in a "fact" document posted on its website.
"Oil and gas drilling is destroying our air," EarthJustice states on its website.
And yet, those of us who live alongside the development of coal and oil energy know that these statements aren't true. Because our air is clear, at least when there aren't wildfires burning.
That's because in North Dakota, much like in other states, energy development is done responsibly.
Which isn't to say that it's done perfectly. There are accidents, and there are even, at times, individuals and companies that behave irresponsibly. But industry and policymakers alike are working hard to avoid those things.
There is always room for improvement, and improvements are always being made. We can strive to be better. There is no doubt about that.
Yet there's also no doubt that oil, coal and gas development can be allowed, and even encouraged, without sacrificing our environment.
This is what the political activists, for political reasons, tell us isn't true.
They're wrong, and one only needs to enjoy a dazzling and crystal-clear summer day in the rolling hills of western North Dakota -- which ranks second in oil production, ninth in coal production, and 14th in gas production -- to know it's true.
And maybe it takes some Canadian smoke to make us appreciate that.