​Chainsaw Dave takes on Fargo
by Sabrina Hornung | .(JavaScript must be enabled to view this email address) | Arts | January 23rd, 2018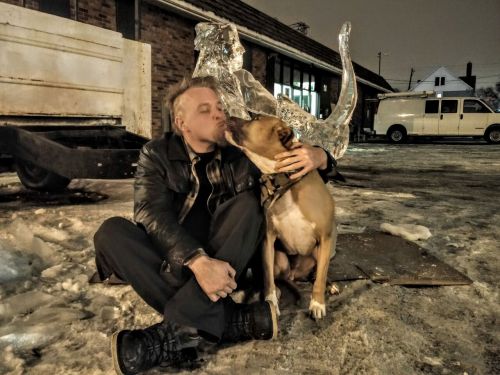 Fargo-based chainsaw artist David Belling, also affectionately known as Chainsaw Dave, has been creating chainsaw sculptures with logs since he was 15.
"Everyone was always asking me why I don't just do ice," he said, "doing wood in the summer is cool but it's miserable in the winter. You have to clean up the mess and have a warm place to seal it--you can't do it comfortably so I decided why not do ice in the winter --and it's AWESOME! It's way better than I thought it would be. I don't think I'm going to carve logs ever again. I think I'm just going to do ice."
You may have seen his Viking and Native American ice sculptures on Main Avenue near Duffy's bar or his ice raven perched outside of the Red Raven, or an ice pound sign outside of Pounds. One of his pieces was stealthily...erected outside of the High Plains Reader.
Belling's wheels are constantly spinning. He has grand visions of ice bars occupying now-quiet outdoor patios. The possibilities are endless. Dave went to the length of approaching the City of Fargo for a busking permit, but was denied due to insurance concerns.
When asked how he felt about his pieces melting he replied, "There's something really romantic about carving ice. It's really beautiful in a way because you know it's going to melt. I'm getting more comfortable with the idea that nothing lasts forever."
He went on to say, "When I do wood it's going to crack and then you have to maintain it, but ice is one of those things that's not meant to last."
Belling gets his ice from White Earth Lake and cuts it out of the lake in blocks. Unsculpted, the ice has a haze but once he goes over the ice with a blow torch it is crystal clear. Upon closer inspection one would be surprised by the intricate level of detail that Belling achieves with a chainsaw.
In regard to his sculpture background, "I made it up as I went. When I first started chainsaw sculptures I thought I invented it. I always put it on the backburner for my careers. I was in the military, I was the public works director a year ago, had spinal surgery a year ago. To be honest I walked away from my public works director job--probably stupid but it's my path I need to walk. Then I spent my summer as a gypsy chainsaw artist." As a travelling artist he spent his time in western North Dakota and lakes country in Minnesota.
"If I had to explain what my deal is...I've had a magnetic pull inside of me telling me to pursue my art for a long time and I finally did it and it was really risky and really scandalous." Belling said. " I'm totally a starving artist and I'm struggling, but I'm onto something and I can't quit now. I've gone too far to quit."