A Holiday Special in a Grindflicks Far, Far Away
by John Showalter | .(JavaScript must be enabled to view this email address) | Cinema | November 14th, 2018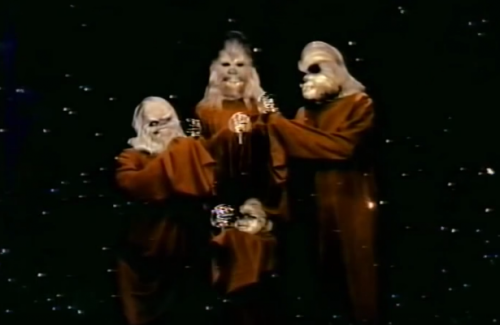 A long time ago (1977) in a galaxy far, far away (20th Century Fox) there was a film released called "Star Wars Episode IV: A New Hope." George Lucas introduced the world to his Flash Gordon-inspired space opera featuring a plucky Rebel Alliance of freedom fighters battling the oppressive regime of the Galactic Empire. The rest, as they say, is history. The tales of intergalactic derring-do captured the public's imagination and "Star Wars" became an entertainment juggernaut with an indelible impact on popular culture. Characters like Luke Skywalker and Darth Vader became household names and phrases like, "May the Force be with You," became part of the American lexicon.
However, it was shortly after the genesis of the grandiose sci-fi epic in 1977 that the nascent franchise would commit one of its biggest blunders. Of course, I'm referring to 1978's infamous "Star Wars Holiday Special." In the words of Randal Black, founder of Fargo Grindflix and connoisseur of cinematic trash, "I make no qualms about the fact that the 'Star Wars Holiday Special' is not even unintentionally funny, or good-bad. It's just bad. It's like an endurance test more than a piece of entertainment." And it's an endurance test that he plans on submitting audiences to at the Fargo Theatre, for the noble cause of collecting money and toys for Fargo-Moorhead Toys for Tots.
Even though "Star Wars" was still brand spanking new when the Holiday Special aired, it was already well on its way to becoming a cultural phenomenon, having even received an Oscar nomination for Best Picture that year. In Black's opinion that is what compounded the failure of the special even further into a full-on debacle. "I mean, it's staggering to think about how huge a misfire the show was when you consider all it had going for it: the 'Star Wars' universe of creatures and characters, ALL the core actors from the movie (including James Earl Jones who recorded all new material for the show), appearances by Harvey Korman, Bea Arthur, and Jefferson Starship (which were all big names in 1978), and make-up and special effects by the legendary Stan Winston."
From the get-go, however, it seems like "Holiday Special" was doomed to failure. Black regaled me with the origins of the ill-fated TV movie. Supposedly, in 1978 CBS pitched the idea to George Lucas of doing a TV special set in the "Star Wars" universe. Although George Lucas hardly involved himself with the creation of the special, it was his idea to center the story around a family of Wookees and their celebration of a holiday called "Life Day". "One of my favorite tales about the program is from famous comedian/writer Bruce Vilanch, who worked as a writer on the special. Supposedly Lucas was the one who pushed for no subtitles during the Wookees' dialogue and Vilanch warned him that the show would turn into one long episode of 'Lassie', which-at times-is kind of what happens." The original director even left the project over creative differences within days, which boded even more poorly.
In the end, the special aired and everyone from fans to critics to George Lucas himself hated it. The story has it that Lucas was so upset about the usage of his characters that he tried to bury the special and had 20th Century Fox round up all the copies that were sent out, demanding that it never air again or be distributed on video. Fortunately (or unfortunately) some rebellious souls made recordings of the ill-fated telecast and started distributing them underground. Since then, the film has existed in a sort of public domain limbo. Since the four decade-old television special never saw an official release, Black did not have to go through the usual channels of seeking a distributor for the rights to show it, because technically it never had one. A bootlegger selling it on eBay was all he needed. "I mean, I guess Disney could shut us down based on usage of their intellectual properties, but I don't think it would reflect kindly on them if they shut down a benefit for children."
To synopsize the special, it's about Chewbacca's Wookie family hoping that he will make it back in time to celebrate Wookee Life Day (they don't have Christmas, I guess). Sprinkle in some scenes of Han Solo and Chewie dodging Imperial ships in the Millennium Falcon, Princess Leia and C-3PO acting concerted, Luke Skywalker being more concerned with his X-Wing fighter than his friends' safety, a cartoon, some variety show antics, and a cabaret song and dance, and you have a nearly two hour long "Star Wars Holiday Special."
"My favorite part of the entire Holiday Special is definitely Bea Arthur's scene," said Black. The sassy "Golden Girls" and "Maude" actress has a song and dance number with the regulars of the Mos Eisley Cantina from "A New Hope." "And the worst part is probably the rest of the Holiday Special." He added, "Honestly, people will usually start checking the time around 20-30 minutes into the program and then realize there is still OVER AN HOUR until it's finished. The last time Grindflicks screened the Holiday Special we handed out 'Certificates of Merit' to patrons as they left, as proof they had sat through the Holiday Special in its entirety. It's funny how many people appreciated those certificates."
The film will not be the only thing going on that night. The doors will open at 6:30 PM and at 7:00 Comic Junction will sponsor "Star Wars" Trivia in the theatre hosted by none other than the sinister Emperor Palpatine himself. The special begins afterwards at 7:30. Admission is a minimum donation of $5 or a new toy as the screening is benefiting the Fargo-Moorhead Toys for Tots program. And of course, cosplay is encouraged. One of the organizations helping with the benefit is the local 501st Legion, a fan-based organization that dedicates themselves to constructing screen-accurate replicas of the franchise's Stormtroopers, Clone Troopers, Sith Lords, and other assorted villains.
So bring a donation, dress up as your favorite "Star Wars" characters, and may the Force be with you. From the sounds of it, you're going to need it.
IF YOU GO:
Grindflicks presents: Star Wars Holiday Special
Friday, November 30, 7:30pmThe Fargo Theatre, 314 N Broadway, Fargo