​'Annihilation': Garland steps inside the Shimmer
by Greg Carlson | .(JavaScript must be enabled to view this email address) | Cinema | February 28th, 2018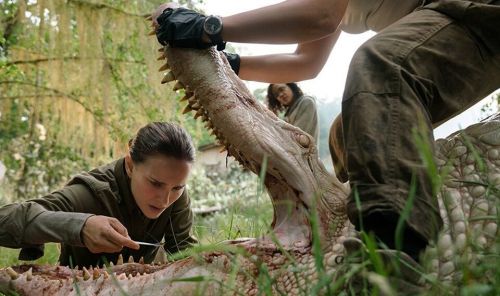 Considerably less accessible than his directorial debut "Ex Machina," veteran writer Alex Garland's "Annihilation" very loosely adapts Jeff VanderMeer's novel into a demanding thought experiment bound to frustrate viewers counting on some of the trailer's promise and premise.
As multiple critics have pointed out, the new film owes a thematic debt to Andrei Tarkovsky's "Stalker," a movie that Alissa Wilkinson suggests is, like "Annihilation," about the "complicated nature of desire."
More precisely, Wilkinson claims, "What we truly desire...is what will ultimately take us apart from the inside." That concept certainly drives a viable reading of "Annihilation," though its success or failure resides within the eye of the beholder.
A bookend device communicates to the viewer the information that Natalie Portman's soldier-turned-academic, Lena, has survived an incredible and inexplicable ordeal within the Shimmer, a time-bending, DNA-blending, electronic device-resisting, magnetic field-defying region within an energy "curtain."
Flashbacks fill in the rest: Lena's husband Kane (Oscar Isaac) returned home after a protracted absence within the Shimmer, and his trauma compelled Lena to volunteer with Jennifer Jason Leigh's Dr. Ventress to seek answers on a new mission into the weird territory.
Ventress and Lena are joined by physicist Radek (Tessa Thompson), paramedic Thorensen (Gina Rodriguez), and anthropologist Shepherd (Tuva Novotny).
Lena's connection to Kane is withheld from the new team members in a questionable ploy that makes little narrative sense beyond functioning as a moment of manufactured conflict provided by its eventual and inevitable disclosure.
Both the emphasis on Lena's primacy as key protagonist and the presentation of the Shimmer's wide variety of effects -- from rainbow-colored flora and fauna to stomach-churning gore -- reduce the overall effectiveness of the supporting characters.
Despite the familiarity of the pick 'em off sequencing associated with "And Then There Were None," "Alien," "The Thing," and dozens of lesser examples, Garland can be commended for resisting the more conventional pace of recent, less-effective genre sibling "The Cloverfield Paradox," even if the action-horror highpoint of "Annihilation" is a j'accuse confrontation that introduces a terrifying hybrid certain to provide nightmare fuel to people who get seriously creeped out by the kind of unholy mergers glimpsed in "Pinocchio" and the 1978 version of "Invasion of the Body Snatchers."
The filmmaker's commitment to a more cerebral and abstract investigation of the death instinct/todestrieb comes at the expense of rich characterization -- especially outside Lena, and "Annihilation" arguably would have been improved through a more deliberate exploration of the reasons why each woman is drawn toward her personal impulse to self-destruct.
The final sequences, despite Garland's bold, CGI-aided trippiness, are simply no match for anything in "Under the Skin" or "Arrival," a pair of films that have already popped up several times in writings and conversations on "Annihilation."
Sexual desire, and the aching longing for physical intimacy in the absence of one's partner, form an intriguing motif contained within the flashbacks; but curiously, given the time spent on the set-up, Garland omits a deeper or more rigorous examination. That choice diminishes certain aspects of Lena and Kane's connection to the Shimmer and to one another, especially in light of the film's ambiguous conclusion.