​Eighth Grade: Burnham Makes Strong Feature Debut with Fisher
by Greg Carlson | .(JavaScript must be enabled to view this email address) | Cinema | August 15th, 2018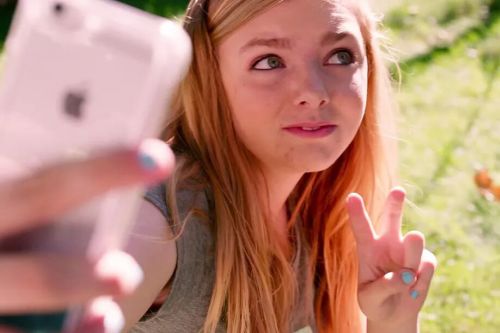 Elsie Fisher's Kayla Day is the lonely but indefatigable middle-school protagonist of first-time feature filmmaker Bo Burnham's "Eighth Grade," a winning addition to the pantheon of the adolescent cinematic bildungsroman. What details and nuances other performers might have brought to the role we wouldn't dare to imagine, so perfect is Fisher's take. She constructs a brilliant characterization utterly unselfconscious in its self-consciousness. There are millions like Kayla, permanently chained to the glowing screens of cellphone, tablet, and laptop -- but Fisher is essential. Without her, the movie would be difficult to imagine.
While the hopes and dreams, as well as the challenges and embarrassments, of "Eighth Grade" are universal experiences, the technological containers in which they manifest make Burnham's film an instant time capsule. Kayla follows a long line of young movie characters who find opportunities to create distance between themselves and their parents, but her methods involve nonstop scrolling through Instagram, earbud volume loud enough to ignore the attention of father Mark (Josh Hamilton). And as it has been for some time, the World Wide Web is a simulacrum offering intensified, accelerated fantasies and horrors from self-constructed projections of the curated "best life" to candid tutorials on oral sex.
The ambitious host of a YouTube channel bereft of viewers and subscribers, Kayla commits to "really putting herself out there" via the diary-like doses of solid advice she shares to the internet. Burnham uses Kayla's clips to structure the film, and the nuggets of wisdom imparted in the interstitials as direct camera address never fail to find their mark. Innocent and earnest, the lessons are so obviously the remedies and prescriptions that Kayla can't bring herself to swallow. Signing off each installment with a cheerful "Gucci!," Kayla -- like so many kids who express themselves in similar fashion -- interestingly projects a more confident persona via the mediated world than she dares attempt face-to-face with her peers.
In the real spaces of the hallways and classrooms at her school, Kayla navigates the minefield of potential humiliations by remaining quiet and observant. Curiously, she does not enjoy the companionship of a close friend and confidante with whom she can commiserate, a circumstance intensified when she and some fellow soon-to-be-freshmen shadow high schoolers. Kayla's partner is Olivia (Emily Robinson), who invites Kayla to hang out at the mall. Nearly unable to contain herself, Kayla soaks up the conversation of Olivia and friends at the food court. The hilarious scene is one of several in which Burnham reiterates a cyclical, generational motif of the similarities and differences that exist with just a few years of distance.
At the age of 27, Burnham has a tremendous ear for contemporary culture, and his own background as a YouTuber is vividly reflected in the details of "Eighth Grade." The plot is resolutely low-key. Kayla's world is distinct from the ones inhabited by Dawn Wiener in "Welcome to the Dollhouse" (as noted by Leslie Felperin) and Nadine Franklin in "The Edge of Seventeen" (with which "Eighth Grade" shares a number of depictions of deeply awkward teen rites of passage). Burnham nails audience identification with his heroine, however, and sequences like the pool party -- a "squirmy tour de force embellished with a punctuating zoom and a plangent sense of dread" according to Manohla Dargis -- demonstrate the work of a talented newcomer.