​Famuyiwa deals uneven "Dope"
Cinema | July 1st, 2015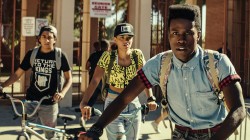 A sticky mashup of broad comedy, contemplated quirk and stylish pretentiousness, the latter of which doubles as writer-director Rick Famuyiwa's heart-on-sleeve love letter to his formative years, "Dope" operates a little bit like "Risky Business" meets "Friday." Fishtailing between tonal shifts as rapid-fire as some of the semiautomatic weapons brandished in the story, the film's greatest success hangs out in the fresh design and the throwback songs on the soundtrack – and most definitely not in the awkward, instantly dated depictions of social media and the movie's ongoing and tricky, problematic relationship to violence.
Had "Dope" been a more introspective exploration of character instead of a vignette-driven caper, one could imagine greater possibilities for future cult status – although, who knows? Shameik Moore is infinitely charismatic as Malcolm, the geeky Inglewood high school senior whose desire to go to Harvard is challenged by the socioeconomic realities of living in a place where, to paraphrase Biggie, you can hear death knocking at your front door. An alumni admission interview intersects with a drug deal gone sideways, and "Dope" is off to the races with a parade of forced hijinks, including a protracted interlude in which Malcolm tangles with Lily (Chanel Iman), a wild child as high as a giraffe's eyelashes.
As it stands, Famuyiwa fails to let us get to know or care about all but Malcolm, and even he is tough to completely parse. Key supporting characters, including Malcolm's pals/bandmates Diggy (Kiersey Clemons) and Jib (Tony Revolori, in his first significant role since "The Grand Budapest Hotel"), never light up with indications of their own hopes and dreams, leaving the audience to wonder about the contours of their inner lives. The biggest drag is the treatment of Zoe Kravitz's Nakia, Malcolm's love interest who disappears for such a long stretch that her perfunctory return toward the end is almost startling.
Sad, but not really surprising, to say, "Dope" fails the Bechdel Test, pointing out a huge missed opportunity, especially since the inclusion of the queer Diggy initiates hopes that turn out to be unfulfilled and unfounded. In her mixed review for "The Stranger," Ijeoma Oluo observes that Diggy "matches her friends in their objectification of women," criticizing the film's failure to convincingly portray females other than as "prizes or sex objects." We do meet Malcolm's mom Lisa (Kimberly Elise), supportive and hardworking, but rarely seen.
Similar to Beck's brilliant realizations of Sex Bob-omb's sound in "Scott Pilgrim vs. the World," "Dope" soundtrack producer Pharrell Williams imagines some terrific tracks for Awreeoh, the punk trio composed of Malcolm, Diggy and Jib. Bummer we spend more time figuring out how to synthesize MDMA than we do taking Awreeoh seriously. Even though a chance encounter lands the group in a home recording studio, Famuyiwa keeps the music-making angle on the sidelines, disappointing viewers hoping for more of the unexpected and innovative pleasures of that potential plot. The same old "in over their heads" conundrums attending the illegal pharmaceuticals entrepreneurship assumes center stage, along with gun violence that sometimes reminds us of its capriciousness and horrifying costs, while at other times is just straight out played for laughs. I am not certain how well the latter works in 2015.