​Fargeat Takes Ferocious "Revenge"
by Greg Carlson | .(JavaScript must be enabled to view this email address) | Cinema | May 16th, 2018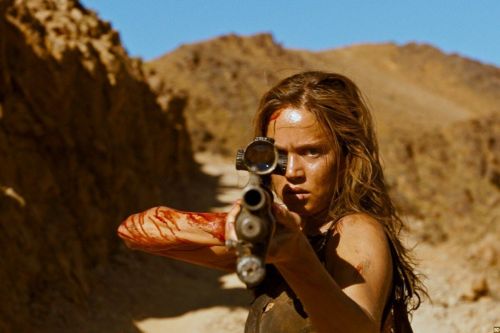 Earning a limited theatrical release following a successful run of festival appearances and a streaming deal with Shudder, writer-director Coralie Fargeat's "Revenge" simultaneously embraces and subverts many tropes of the rape-revenge subgenre. Powered by a supercharged central performance by Matilda Lutz, Fargeat's film also draws from the implied isolation of its evocative locations and the saturated hues of Robrecht Heyvaert's dazzling cinematography. Given the nature of its subject matter and execution, "Revenge" will not likely find a receptive home in too many suburban multiplexes.
Carol Clover, Jacinda Read, Alexandra Heller-Nicholas, Claire Henry, and other scholars have taken hard looks at the rape-revenge film, a categorization commonly linked to a set of exploitation titles produced in the 1970s but occasionally explored in mainstream studio releases and by A-list and "prestige" filmmakers. The defining characteristics of the subgenre, argued by Heller-Nicholas, require that the sexual assault or assaults "must be the core action that provokes revenge," whether or not the rape is shown. Moral and ethical implications complicate the rape-revenge film. As Heller-Nicholas points out, the visualization of rape can be motivated by the maker or consumer's "ugly desire to watch sexual violence."
That particular conundrum -- how to critique hypermasculinized bro behavior and the unchecked misogyny of rape culture in a vehicle that thrives on a voyeuristic gaze at eroticized femininity -- provides different answers for different spectators. Fargeat and Lutz collaborate on several strategies to accomplish the task. As Jen, the young girlfriend of a married man, Lutz infuses her character with an initially naive openness and misplaced trust that will transform, post-trauma, into gritty resolve and intense self-reliance. Like many action movie protagonists, Jen's very life depends on her autodidacticism in impossible situations, and in "Revenge" that includes several satisfying pegs, including a memorable self-surgery.
As noted by Katie Walsh, "Fargeat's camera apes the male gaze in such an ostentatious way that it's nearly laughable, a parody of the way that women's bodies are consumed in horror movies." Later, Phoenix imagery symbolizes Jen's return from the brink. The potential obviousness of those choices could easily unravel or backfire, but Fargeat is comfortable rendering her world in streamlined archetype, and it mostly pays off. The filmmaker strikes a hallucinatory tone (complete with peyote trip) that allows for maximum stylization without ever losing sight of the seriousness of her heroine's experiences.
"Revenge" is not as rich or rewarding as "Raw," Julia Ducournau's midnight-programmed barn-burner that made the rounds last year. Although they focus on different aspects of horror, the two films have in common female-centric storylines and French-language directors deeply invested in explorations of gender empowerment. Both movies also cut together pulse-quickening scenes reliant on significant amounts of blood. The middle sections of "Revenge" struggle at times to match the voltage of the first act, but Fargeat comes out blazing with a climax that cements the movie's future cult-item bona fides.
The harrowing crucible suffered by Jen culminates in a cat-and-mouse showdown through the slippery corridors of a modernist home. The set-piece, conjuring a warped mash-up of the lurid pop production design of "Pulp Fiction" and the gliding Steadicam shots in both the Overlook and the hedge maze in "The Shining," is staged and directed with supreme confidence by Fargeat. When all is said and done, many might stumble away with what A. O. Scott aptly calls a "lurid, punchy afterimage, an impression somewhere between righteous delight and quivering revulsion." Scott's accurate description speaks to the promise of Fargeat's talent.
"Revenge" is currently in limited theatrical engagements and is also available on demand.