​Hearts Beat Loud: Haley Makes Music with Offerman and Clemons
by Greg Carlson | .(JavaScript must be enabled to view this email address) | Cinema | July 25th, 2018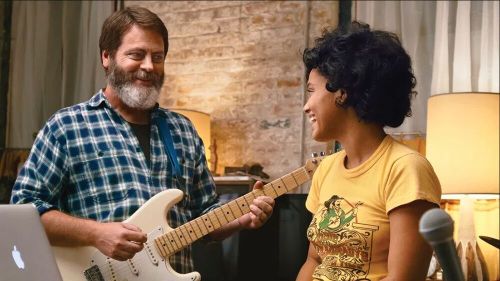 Brett Haley follows "The Hero" with another intimate and small-scale drama that touches on love and loss, looking back and moving forward. Nick Offerman, who provided memorable support in "The Hero" as Sam Elliott's drug connection, assumes lead duties as Brooklyn record store proprietor Frank Fisher. Coming to grips with the imminent closure of his shop and the cross-country relocation of his daughter Sam (Kiersey Clemons) to UCLA medical school, widower Frank avoids the realities of his midlife crossroads by way of improvisational and, as it turns out, highly productive songwriting collaborations with the reluctant but talented Sam.
Despite her aptitude for cardiological studies, Sam takes genuine pleasure in "jam sesh time" with her pop. And just like that, father and daughter build and record a track that Frank uploads to Spotify and minor indie mix glory. Akin to the John Carney trio of "Once," "Begin Again," and "Sing Street," "Hearts Beat Loud" occupies that cinematic sweet spot that sprinkles enough pixie dust on music composition montages for us to suspend our disbelief at the tough process of making art. Keegan DeWitt supplies the music, effectively selling the deceptively simple combination of instruments as the work of Frank and Sam (Offerman and Clemons play and sing).
Haley, working again with co-screenwriter Marc Basch, revels in the unhurried pace and quiet revelations that give the actors plenty of space to build and explore characterization. Offerman's role as written is meatier than the one played by Clemons, but both performers -- especially in their scenes together -- zero in on the complexities of their relationship. The absence of Sam's mother/Frank's partner is effectively integrated. Allison Shoemaker, for "Consequence of Sound," recognizes one of the movie's joys in how that grief registers, writing that "Offerman makes his choices look like survival instincts."
The most interesting interpersonal dynamic in "Hearts Beat Loud" blossoms in the specific and particular way in which Frank and Sam navigate their roles and responsibilities. The loss of Sam's mom continues to be processed in ways individuated by Haley and Basch, manifesting in scenes like the one in which Sam learns to ride a bicycle, and the subsequent confrontation over her missing curfew. Sam and Frank, especially through the awkward magnet of their aptly-named duo We're Not a Band, are as much friends as they are parent and child. Clearly, Frank's pressure on Sam to see where their music might take them cleverly allows Haley to invert the typical trope of sensible adult/dreamy kid.
Moviegoers looking for something darker and edgier won't find it in the crowd-pleasing fuzz of "Hearts Beat Loud," but I don't think Haley should be faulted for his tone. So many potential cliches are deliberately ignored (Haley veteran Blythe Danner's challenges with aging and possible dementia as Frank's mom/Sam's grandma may come closest to stepping on the line) that repeat viewings will reward the watcher with tiny details in the low-key interactions between and among the central cast. The supporting players, including Ted Danson (tending bar!) and especially Toni Collette and Sasha Lane, add to the good vibrations of Haley's sweet summer tune.