Local Film 'Aura' Blurs the Lines Between Good and Evil
Cinema | June 17th, 2015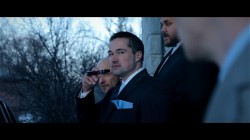 Local rapper turned moviemaker Charles Mauk will release his very first feature-length movie, "Aura," this Saturday, June 27 at The Fargo Theatre.
The locally made low-budget mob movie takes on the unthinkable task of depicting our small and friendly city of Fargo as a metropolitan-sized, crime-ridden city. Remarkably enough, Mauk found a way to pull it off.
Though not surprisingly, given the circumstances, there are some discernible imperfections in the film. Nevertheless, "Aura" is worth seeing.
It takes ambition to make a feature-length film. It takes even more determination to write, produce, direct, act and score a feature length – without prior movie-related experience.
Any somewhat-related experience Mauk has came from his music career in hip-hop. He wrote, produced and mixed his own music and directed his own music videos under the stage name Charlie Mizza. He and his wife also shoot wedding videos. Mauk's day job is working as a nurse for Essentia Health.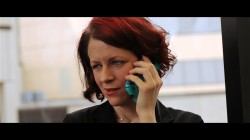 All the actors in "Aura" live in Fargo and have different types of day jobs. Some of them have quite a bit of theater or on-camera experience, including lead characters Bjorn Pederson and Aimee Klein. Others, like former MMA fighter Mike Roush, had no prior acting experience. They just looked the part and were friends of Mauk.
The acting is particularly good between Pederson, "Billy," and Klein, "Anna." Their chemistry is believable. Anna, the chief editor of GQ magazine, displays a genuine concern for him as a struggling writer. Billy, though supposedly brilliant, is portrayed as extremely frail and unsure of himself. We learn a bit about his past, which includes a childhood friendship with "Charlie Giovanni," Mauk's character, and an English Literature degree from Brown. Viewers might wish they could understand Billy a bit more. His past, which may better explain his deep insecurities, seems to be a mystery.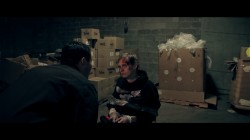 Still, Billy's dubious persona works with the script, which has a smart guy putting his prized unpublished novel in the hands of Giovanni, a particularly charming wise guy. This trait makes Giovanni an effective manipulator. It's his explosive temper and violent criminal history that makes him feared by others. It's also what stems Anna's apprehension towards Billy's rekindled relationship with him.
The acting is particularly the weakest during some of the scenes where the characters were required to be highly threatening and intimidating. While the actors' vocal tone and the facial expressions were mostly believable, their body language didn't always match characters' true intent. There's an uncomfortable personal-space barrier that needs to be crossed to better convince the audience that these gangsters are truly ruthless. Also, at times you could hear the mobsters' disarming Fargo-accents slip out during non-ideal moments.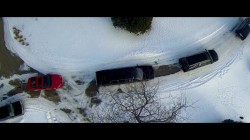 This, of course, goes with the territory of a low-budget, amateur-made film that was completed in six months. Mauk told HPR each scene was done in an average of three to four takes. Also, because they couldn't afford to rent out spaces, some of the scenes had to be shot in businesses with on-looking customers. The Red Raven Espresso Parlor, Straus Clothing and Speak Easy are just a few of the local places that people might recognize in the movie. Mauk said he was pleased with how willing the community of Fargo was in working with him and his movie crew.
Perhaps what makes "Aura" uncharacteristic of an amateur, low-budget film is its picture quality. There are some great camera shots and creatively executed special effects. The movie, as a whole, is engaging. It's entertaining and animated, far from dull or boring.
Though at times predictable, "Aura" has some interesting plot twists and character interactions. There are also decent dream-like mindbender sequences. Mauk's music compositions, especially in these sequences, are laudable. One of these dream-like sequences contains an absolutely stunning performance by two Blue Belle's Burlesque members.
What could Mauk accomplish with a bigger budget, bigger cast, more advanced technology and more time? It's highly possible "Aura" may generate a positive enough response from the community that it could inspire Mauk to create a movie that takes it to the next level.
Still deciding whether to see the movie on the big screen? We recommend checking out the trailer for "Aura," which can be found at aurathemovie.com or Facebook.com/aurathemovie. To date, it's accumulated about 68,000 views, 600 shares and loads of positive comments on Facebook.
IF YOU GO:
In-theater premier of "Aura"
Sat, June 27, 7 p.m. and 9:15 p.m.
The Fargo Theatre, 314 Broadway