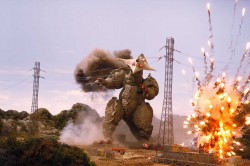 Halloween weekend is a natural time to revisit or track down horror films, with plenty of public screenings as well as numerous sales on home video editions. The prestigious Criterion Collection has several notable horror films from major directors around the world available on Blu-ray, with 13 selected titles not-so-coincidentally on sale for half-price this week at Amazon through Nov. 1. Several of these I've reviewed in past columns, all worth seeing.
This sale includes Lars von Trier's controversial "Antichrist" (2009, Denmark), Guillermo del Toro's multi-layered philosophical Mexican horror films "Cronos" (1993) and "The Devil's Backbone" (2001), Georges Franju's "Eyes Without a Face" (1960, France), Ishiro Honda's iconic "Godzilla" (1954, Japan), Nobuhiko Ohbayashi's bizarre and downright wacky "House" (1977, Japan), Erle C. Kenton's creepy "Island of Lost Souls" (1933, USA), Kaneto Shindo's moody ghost story "Kuroneko" (1968, Japan), Roman Polanski's classic "Repulsion" (1965, Britain) and "Rosemary's Baby" (1968, USA), Lewis Allen's ghost story "The Uninvited" (1944, USA), and David Cronenberg's intriguing Canadian sci-fi thrillers "Scanners" (1981) and "Videodrome" (1983).
Interestingly, the nationality most represented in the above selection is Japan, a country noted for numerous monster movies but also thoughtful, psychological ghost stories based on oriental tradition, as well as heartfelt social-political-environmental message films disguised as genre thrillers. About two years ago, Criterion released a remarkable DVD-only set called "When Horror Came to Shochiku" that belongs in the collection of any aficionado of horror and/or Japanese cinema.
People who have not yet upgraded to high-definition televisions or Blu-ray players, or who for whatever reason prefer streaming to owning high-quality physical media, can find a wide variety of stimulating films from Criterion available on DVD only, and others exclusively through streaming on Hulu Plus. Criterion's "Eclipse" series of box sets provides expertly-curated combinations of related films on DVDs at a reasonable price. In effect, you get an instant film festival in a box, but without the extensive supplements (just some good program notes), and copies that have not undergone the more careful restoration given to titles that Criterion releases on Blu-ray.
Eclipse series #37, "When Horror Came to Shochiku," presents four diverse and interesting genre experiments from a studio better known for showcasing personal director visions and quiet character dramas. Picture quality on these "scope" widescreen productions, especially the first two, is noticeably softer than a Blu-ray when projected on a big screen, but should look fine on an average TV set and certainly if streaming from Hulu Plus on a computer monitor.
"The X From Outer Space" (1967) is a cute, colorful, fun sci-fi monster movie. It starts with a bunch of astronauts preparing for a mission to Mars -- three guys and a girl, of course (and an American girl with a crush on the Japanese mission commander at that!). The commander meanwhile has an uneasy relationship with the beautiful moonbase communications officer, who is a good friend of our beautiful blonde scientist (they even shower together). Once they're enroute in space things start to happen, like blocked communications signals, asteroid showers, and a weird UFO with a tracking beam that deposits some sort of glowing spores on the ship. Naturally they bring one back and it grows into a giant semi-chicken-shaped monster who stomps off toward Tokyo. Then it becomes your typical man-in-a-monster-suit movie. It's entertaining fluff in the tradition of the Toho and Daiei studios responsible for "Godzilla" and "Gamera."
"Goke, Body Snatcher From Hell" (1968) is a distinctive oddity, a survivalist sci-fi thriller with aliens and vampires but mostly about victims of an airline crash. No routine action special-effects film, it's often artful and philosophical, heavily sermonizing on a variety of social-political issues (mostly war, politicians, munitions manufacturers, political assassinations, terrorists, hijackers, and general human nature), and it is unusually bleak for a modest-budget genre film. An American girl is one of the passengers here too, but this time she's a Vietnam war widow traveling to retrieve her husband's remains -- a fact that will determine the direction of some of the action once things start to happen. It starts off as an airline disaster film and gradually evolves into sort of a weird blend of "Night Of The Living Dead," "Invasion Of The Body Snatchers," "War Of The Worlds" (or "Independence Day"), and "The Last Man on Earth," with perhaps a tinge of "Melancholia."
The last two films in the set are the best, both cinematically and in image quality. "The Living Skeleton" (1968) is a moody and atmospheric black-and-white ghost story of revenge. It blends traditional Japanese horror elements with psychological implications and offbeat twists on western horror iconography, including Christian religion and a touch of the mad scientist trying to preserve life after death. It begins with a massacre on a ship by hijackers stealing a gold shipment. Three years later the troubled twin sister of one of the victims is living in a church, getting strange sensations that her sister is still alive. While scuba diving with her boyfriend they discover a series of chained skeletons. Soon after she is drawn to the now-derelict ghost ship where the opening tragedy took place, learning that she needs to go through with her own revenge plans.
"Genocide" (1968), also known as "War of the Insects," is an interestingly complex environmental Cold War parable featuring plenty: a B-52 bomber forced to crash from a swarm of insects; fanatic U.S. military officers and Eastern bloc spies searching for a missing H-bomb; a mad scientist experimenting with insect toxins; a doctor researching insect species; and a hapless insect collector, who is in a romantic triangle with his loyal pregnant wife and a mysterious beautiful blonde survivor of a Nazi concentration camp. Like the second film in the set, this struggles with human passions for good and evil, but with a more believable scientific basis and presenting the darkest overall vision of humanity's future.