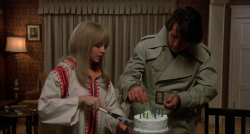 Jodie Foster today is known primarily as a film director and as an Oscar-winning actress for "The Silence of the Lambs" (1991) and "The Accused" (1988). Some may also remember her as a child actress in TV and children's films of the 1960s and 70s.
Mature for her age, by age 13 she broke into serious and adult roles as a key supporting character in Martin Scorsese's "Taxi Driver" (1976) and the lesser-known but even more challenging and complex title role in the Canadian-French co-production "The Little Girl Who Lives Down the Lane," which premiered in late 1976 but got its general theatrical release in 1977 through American-International.
Two other major films for Foster in 1976 were the off-beat British gangster-musical "Bugsy Malone" and the Disney fantasy "Freaky Friday." Kino-Lorber released a Blu-ray edition of "The Little Girl Who Lives Down the Lane" last May.
For whatever reason, Foster has dismissed it as among her least-favorite films, but her performance won her "Best Actress" from the Saturn Awards for horror, science-fiction, and fantasy films, and the movie itself won Best Horror Film besides earning nominations for the director, script, and supporting actress at the same awards.
But "The Little Girl Who Lives Down the Lane" is not really a traditional horror film. It's essentially a mystery that develops into a thriller, with a few familiar horror film elements like the remote old dark house, the "don't go into the cellar" warning, a young girl in potential danger, a mildly psychotic child-molester villain, and a sudden and somewhat bloody death, along with a few other tropes and an ominous undercurrent of unsavory suspicions pervading the plot.
After her parents' divorce, a little girl named Rynn (Foster) has moved with her poet father to a small New England village where they have leased a house for three years from the wealthy, snobbish, and uptight local real-estate agent who largely controls the town (Canadian-born Hollywood veteran Alexis Smith) but often has difficulty controlling her sleazy pedophile son Frank (Martin Sheen), who sees Rynn as a new challenge to seduce.
There's also the friendly and concerned town cop (Mort Shuman, better-known as a songwriter and singer) and his nephew Mario (Scott Jacoby), a teenage magician with a crippled leg who takes an interest in Rynn. Mario instinctively feels Rynn is a misfit like himself, since she does not attend school and rarely goes into the village.
Whenever any of them stop by the house to check up on things, Rynn's father is unavailable to see them, either out of town at a meeting, locked in his study working, or upstairs sleeping, according to the very independent-minded Rynn. Naturally, suspicions quickly arise as to whether he is even living there and about Rynn's background in general.
We eventually find out what's been going on as Rynn and Mario's relationship grows closer and they open up to each other, settling into an above-average teen romance that makes up much of the plot. But the story isn't over yet, as Frank refuses to abandon his pursuit of Rynn and becomes more aggressive in his tactics.
Foster, who turned 13 during production, drives the film with her assured, self-confident portrayal of a lonely but strong girl not afraid to do whatever she needs to in order to survive, yet conveying an underlying sense of vulnerability that gives her character depth. She easily holds her own against and even dominates the experienced veterans in the cast in their scenes together.
The film works largely through suggestion and implication, but its PG rating would likely be a PG-13 or possibly even an R today for some of the touchy and potentially disturbing issues it deals with.
Picture quality is very good on Kino's Blu-ray, a sharp and film-like 1.85:1 HD transfer with strong color, and the DTS-HD MA mono audio is also very good. Kino has provided a modest but impressive selection of bonus features. There is a new half-hour interview with Martin Sheen recalling his work on the film and the challenge of playing a villain for a change, a brief conversation by Skype between Sheen and the director, and the original American trailer (all in HD).
The most interesting supplement is the excellent audio commentary by Hungarian-born and Swiss-educated director Nicolas Gessner, who works mainly in France. Gessner discusses why he wanted to make the film, the story's evolution from script to screen and details of the plot structure, themes, and characterizations, as well as the production itself, working with each of the five main actors, the music score, and other information.
Gessner's commentary is essentially a master class in directing a film. He also tells several anecdotes about some of his other films and actors he's worked with, expressing a preference for American actors.
THE LITTLE GIRL WHO LIVES DOWN THE LANE on Blu-ray -- Movie: A- / Video: A / Audio: A / Extras: B