​'Small Talk,' Big Themes
by Gabrielle Hersch | .(JavaScript must be enabled to view this email address) | Cinema | March 20th, 2019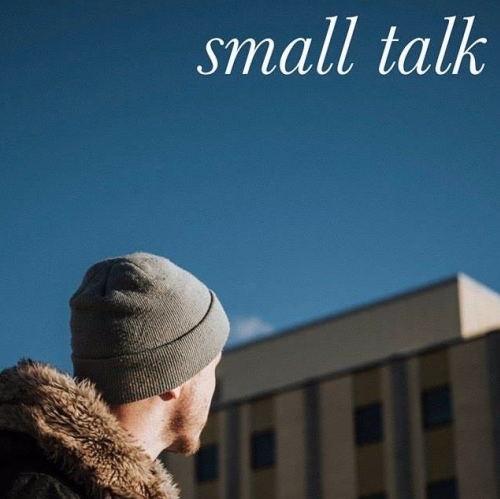 With the 19th annual Fargo Film Festival underway this week, film lovers and filmmakers are flocking to the Fargo Theatre to catch screenings. One local filmmaker, Steven Warkel, got to see the short film that he wrote and directed, "Small Talk," come to life on the big screen.
"Small Talk," which was produced last spring as a student film for MSUM's film production program, follows a young man through turbulent emotions as he processes the hospitalization and potential death of his mother. The film follows a non-linear timeline as the protagonist, Travis (MSUM alum Nicholas Biewer), endures small talk and sympathetic sentiments from acquaintances as he procrastinates the inevitable: visiting his mother in the hospital and seeing her for perhaps the last time.
Death, a difficult event to process in any situation, stands as a powerful theme in the short film. Dealing with the death of a loved one is an intensely personal experience, and "Small Talk" portrayed this process powerfully.
"The main personal experience [that influenced the film]," Warkel said, "was the recent passing of my grandparents. They were both natural passings where I had a chance to see them in the hospital before they passed away. But I was visiting less with the mindset that I was just saying hello to them, and more so knowing the fact that this would be the last chance I would ever get to see them."
Warkel said that based around those events, the main theme of the film focused on "dealing with death/the mortality of family." "That's something that I think can easily be taken for granted, with the message that hopefully hit home being that it's not easy when losing those close to you, but that's okay if it's not easy," Warkel said.
As the writer and director of the piece, Warkel said the biggest challenge for him was developing a story that would be interesting to a general audience. It was challenging to write "something that would be relatable to everyone but would also be something that I hadn't seen brought up as much as a topic in films or media I've seen," he said.
While death is not a rare occurrence in film and television, "Small Talk" broaches a subject that's little touched on: putting off that inevitable goodbye. We watch the stubborn protagonist of the short film go through the motions of each day as he refuses to process and discuss how sad, afraid, and hurt he is over his mother's condition. Despite questions of how his mother is doing and urges from his brother to go visit her, he can't bring himself to confront the situation. That is, until the final scene, when we finally see him enter his mother's hospital room and say hello and, metaphorically, goodbye.
As a student project, the short film was produced with a very small budget and other students as the actors and production crew. The piece was shot locally in Fargo, and besides Warkel as the writer and director, other members of the production were Brady Halverson (producer), Dillan Schmiedt (director of photography), and Samuel Lacasse (editor).
"My biggest takeaway was just being able to enjoy the process and being grateful for getting to work with such talented crew and cast as well as friends," Warkel said. "When everyone on set was having a good time, it was hard to consider anything we were doing 'work.' In the end, it was a very fortunate experience and I was glad to be surrounded by the people who made it possible—because I could never do it on my own."
Post "Small Talk" and graduation from MSUM, Warkel continues to build his career as a writer and director.
"My main focus since leaving school has been working on pre-production for a feature film several friends and I had pitched back in the fall," Warkel said.
If everything keeps going smoothly, they hope to shoot the feature film in July.
"It's something we're all excited about, given the fact that it's what we went to school for and something we have always dreamed of doing," Warkel said.
It's no small accomplishment to have a film featured in the Fargo Film Festival – which averages more than 300 submissions annually. It's extra special when local productions are chosen because this furthers and encourages filmmaking in our region.
"It's a really cool feeling to be selected to the local festival. I remember going to the festival my first year as a film student at MSUM and thinking it was such a great event and how awesome it would be to get the opportunity to show something there," Warkel said.
"Small Talk" screened during Tuesday's afternoon session, the first day of the festival. Screenings will continue throughout the week, culminating with the final film screenings, the 2-Minute Movie Contest, and a wrap party on Friday, March 23.