​'The Rider:' Dreams Deferred, Dreams Fulfilled
by Greg Carlson | .(JavaScript must be enabled to view this email address) | Cinema | June 13th, 2018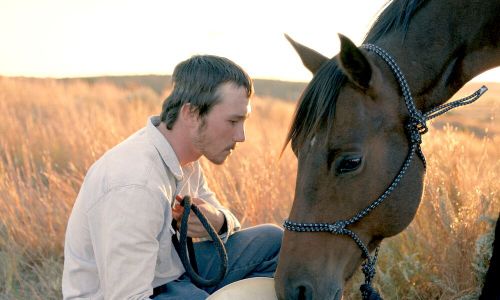 Writer-director Chloe Zhao's sophomore feature "The Rider" cements her status as one of contemporary filmmaking's most promising voices. A carefully curated blend of fact and fiction, the movie focuses on the aftermath of a traumatic head injury suffered by a young Sioux rodeo cowboy. Played by Brady Jandreau, the fictional Brady Blackburn is faced with an impossible choice: accept the reality that his riding days are done or court almost certain death by returning to competition. Many films have stuck their protagonist with a variation of this conundrum, but Zhao's humaneness elevates "The Rider" to poetic, personal storytelling.
Darren Aronofsky's "The Wrestler," for example, successfully explores much of the same terrain. Both movies use a touch of "meta-casting" in their leading men. Both Brady and Randy "The Ram" Robinson are sidelined doing what they know/love (or in Randy's case at least once loved) and are warned by medical professionals to stop. Both movies also show rent troubles and the acceptance of work that sharply contrasts with the spectacle of past glories. Both men are recognized by fans while toiling at those jobs. Zhao, who followed her instincts toward similar unorthodox techniques while building "Songs My Brothers Taught Me" from 100 hours of footage shot and no script, also parallels -- to some degree -- Aronofsky's commitment on "The Wrestler" to verisimilitude through the blend of the authentic and the imagined.
And yet, even compounded by the minefield of potential sentimentality attached to a boy-and-his-horse tale, Zhao manipulates all the dangerous chestnuts to her advantage. "The Rider" finds the sweet spot between well-worn themes that could have so easily soured into cliche and the kind of fresh and unexpected surprises that reward and delight dedicated appreciators of "small" filmmaking. In other words, the specific challenges of making ends meet in and around the Pine Ridge Indian Reservation are presented with rich layers of exquisite detail even as Zhao commandingly locates the universal familiarity in Brady's aching heart.
For my money, the most electrifying sequence in "The Rider" is one in which Brady trains a neighbor's unbroken horse. Like any number of other scenes in the film, Zhao puts together something that unfolds with a startling sense of what might be called evidence-based certainty. Yes, Brady's cowboy pals swap what are surely unscripted stories around a campfire, and even more remarkably, Brady's father and sister are played by Tim Jandreau and Lilly Jandreau -- his real-life family -- but the almost wordless scene of Brady moving through a series of exercises to calm and prepare an animal to accept a human on its back is a superb piece of observation and dramatization that allows viewers to feel something close to awe for the privilege of bearing witness.
The understated beauty of this scene contrasts to some degree with more traditionally dramatic crisis points and climaxes, but Zhao directs both with grace. Brady's close relationship with Lane Scott (playing Lane Scott), a paralyzed former rodeo brother whose own injuries require potentially permanent nursing care, a wheelchair, and physical therapy, add another layer to the film both on and off camera. The real-world Lane Scott suffered a catastrophic car accident and not a bull-riding mishap as imagined for the film, but Zhao's modification fits the narrative without diminishing the love that exists between Scott and close friend Jandreau.
That bond, like the rest of "The Rider," is not easily shaken or forgotten.