​'The Shape of Water': Del Toro's monster madness and movie magic
by Greg Carlson | .(JavaScript must be enabled to view this email address) | Cinema | February 7th, 2018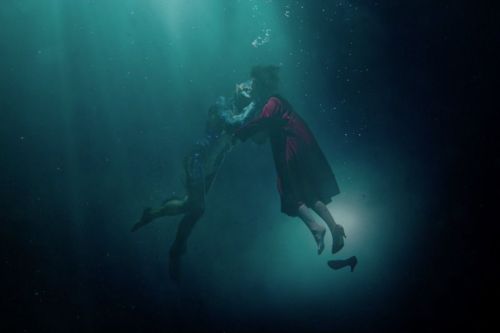 Of the great designs in the history of movie monsters, there are few as satisfying as Universal's stunning Gill-man. First envisioned by William Alland by way of Gabriel Figueroa's Amazonian campfire story, the look of the Creature from the Black Lagoon belongs principally to Milicent Patrick. Christened "The Beauty Who Created the Beast" for a promotional tour, Patrick's contributions to cinema iconography were unfairly squashed by jealous makeup artist Bud Westmore, who would for years claim sole credit for the scaly swimmer's conception.
Patrick's tale -- among other things she also designed the influential Metaluna mutant for "This Island Earth" -- would make a tremendous Hollywood movie by itself, and in one sense, Guillermo del Toro's gorgeous "The Shape of Water" evokes any number of parallel Cold War-era realities for women in industries dominated and controlled by men.
As one inspiration for the script he would write with Vanessa Taylor, del Toro has cited his childhood desire that the Gill-man and Julie Adams' Kay Lawrence physically and romantically end up together. And while he's not the only one who imagined cross-species love and romance while marveling at the poetry of Adams and Ricou Browning during their underwater ballet, "The Shape of Water" is quintessential del Toro.
Set in Baltimore in the early 1960s, del Toro's meticulously imagined universe evokes via Paul Austerberry's production design and Nigel Churcher's art direction a stunning variation on Atomic Age nostalgia. Much of the action is set at a secret government lab that employs Elisa (Sally Hawkins) and Zelda (Octavia Spencer) on the custodial staff.
Colonel Richard Strickland (Michael Shannon) arrives with an otherworldly "asset," (Doug Jones) an aquatic humanoid that can breathe in and out of water. Scientist/mole Dr. Robert Hoffstetler (Michael Stuhlbarg) secretly witnesses the special bond that develops between Elisa and the Amphibian Man.
It's impossible not to read "The Shape of Water" as a paean to queerness, to otherness, to love triumphing over hate. The captivating wonder of its frankness and vulnerability in matters of sexual expression, which are rendered fiercely and concretely by the incredible Hawkins, is rare in a genre film -- or film in general for that matter.
Nobody put it better than Anthony Lane, who wrote, "The lust that is, of necessity, thwarted and damned in Disney productions of Beauty and the Beast is released, and allowed to flow at will, through the fable of Eliza [sic] and the Creature. So grimly accustomed are we to sexual violence on screen that to see sex flourish as a rebuke to violence and a remedy for loneliness, which is what "The Shape of Water" provides, is a heady and uplifting surprise."
"The Shape of Water" is also, to the shock of no one given del Toro's affinity for the movies, an intertextual kaleidoscope of references and homages to silver screen dreams. Elisa's apartment over the cavernous auditorium screening "The Story of Ruth" in CinemaScope and DeLuxe Color may remind you, as it did me, of the sanctuary provided by your most beloved movie palace.
Dual Astaire references dazzle. Glenn Miller and Alice Faye are elegant choices for Elisa to communicate some counterpoint to the brutal electric shocks administered by the inhumane Strickland.
The film's flights of fancy, as weird and sublime as anything del Toro has done, outstrip the ambitions of a messy subplot involving the Russians. The giant-size heart belonging to del Toro, however, is indisputable. He believes, makes believe, and subsequently makes us believe.