A Spot of Grime on the North Dakota Music Scene
by John Showalter | .(JavaScript must be enabled to view this email address) | Music | January 9th, 2019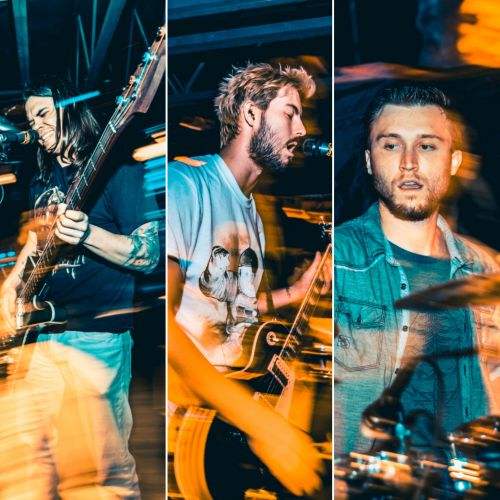 Grime is composed of three members: Nick Jensen on guitar and backing vocals, Cale Mogard on drums, and Andrew Wickenheiser on lead vocals and bass guitar. They have a history that goes back at least six years. The band formed in November 2012, when Andrew and Nick (who had previously been in a cover band together) decided they want to write their own music. At first, an old friend of Jensen's filled rum duty. By the end of 2013, a new drummer named Tim Gray took his place. Gray is the drummer who performed on all their recorded music so far, but in May of 2017 creative differences led him to part from the band. Mogard then became a temporary fill but eventually, his position became permanent. "He learned our set in 2 weeks, and all the shows we've played with him have been fantastic," said Jensen.
The band has performed over a large chunk of North Dakota: Grand Forks, Fargo, Jamestown, Dickinson, Minot, Bismarck, and Mandan. Their out of state shows include Rapid City, South Dakota, Madison, and Fort Atkinson in Wisconsin, two shows in Chicago, Illinois, one in Fort Wayne, Indiana, and even as far as Cincinnati, Ohio. 2018 saw the self-release of their first full-length album, "What We Have Become", which was preceded by an EP called "Hitch-Hiking Prohibited", with the LP being recorded at RedDot Recording in Bismarck.
For those interested in listening, besides just the upcoming concert on January 11th at the Aquarium, Jensen said, "We are on all the streaming services, such as Spotify and Amazon Music, and iTunes. We also have a YouTube channel with live videos on it. Someday we'll make a real music video, but we don't currently have plans on that. And of course, you can listen to and purchase our music on Bandcamp." Physical CDs are also available at shows and Rhythm Records in Bismarck.
Jensen said about the band's genre, "Grime is a heavy rock band. We're not metal, but rock alone doesn't seem to cover it. We're also mildly eclectic. We don't like writing a bunch of songs that sound the same. Diversity is a beautiful thing, and we think the new album 'What We Have Become' shows that off pretty well. We write songs about monsters through wormholes, fictional characters we like, and inner struggles." The eclectic nature of the band is reflected by the influences cited by their members: Mogard states that music like "Play That Funky Music" by Wild Cherry and "Brick House" by The Commodores helped shape his style, as well as groups like Breaking Benjamin, Avenged Sevenfold, and Periphery; Jensen cited Led Zeppelin, Black Sabbath, Alice in Chains, Soundgarden, Mastodon, and 80's Metallica; and Wickenheiser listed off a whole litany of acts like Led Zeppelin, The Rolling Stones, Iron Maiden, Megadeth, Judas Priest, Dio, Testament, and Nirvana.
If you needed more impetus (besides good music) to attend, January 11th's show at the Aquarium will be the last chance to catch Grime in concert before the summer. The band will be taking a break until June because Jensen's wife is having a baby (congratulations!). Then that summer they plan on playing all over. "We want to play more shows out of Bismarck and to book a show in Minneapolis," said Jensen. So, if you don't want to wait six months to see some good music live, you better make your way down to the Aquarium Friday night.
IF YOU GO:
Anomic, Emissary Echo, Grime, Another Poet at The Aquarium
Friday, January 11, 9pm-12:30am
The Aquarium 226 N Broadway, Fargo