Dearly Departed Not Planning on Leaving
by John Showalter | .(JavaScript must be enabled to view this email address) | Music | December 5th, 2018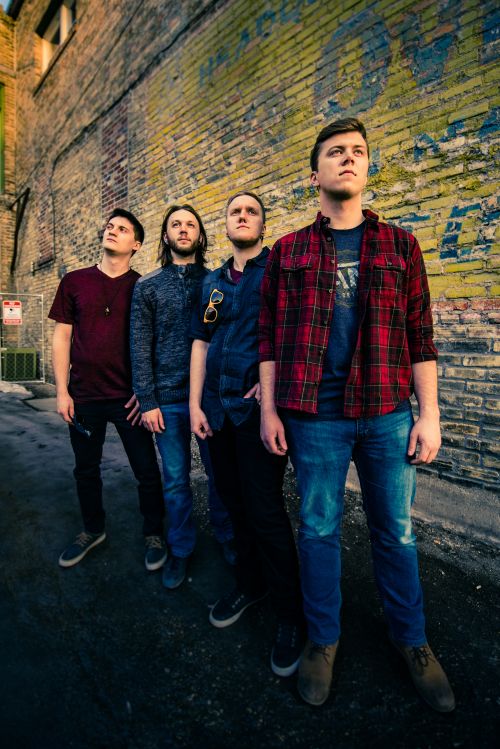 The biggest stumbling block for any local band is not taking themselves seriously enough. Even if your band may not be headlining giant concerts at convention centers around the country, keeping a level head and showing that you are serious about music not just as a passion but as a business, can go a long way in obtaining studio time and getting promoters to book you for shows at their venues at the local venue and beyond.
No one would accuse the band Dearly Departed of not doing everything in their power to show that they mean business. Hailing from the nearby small town of Glyndon, Minnesota, Dearly Departed came right out of the gate ready to show the world they weren't just another small town act. "We're trying to show we're serious," said guitarist and all-around social media guru for the band Deven Jason.
Just how serious? So serious that Jordan Rasmussen, their drummer (who also does their booking) renovated his entire basement into a practice/studio space, complete with soundproofing. Gary Ussery, their photographer, publicist, and self-described 'confidante' has reached out to the small business association Score for consultation and advice on how to go forward with their musical ventures. Deven Jason has made sure that the group has a huge social media presence, spanning from Facebook to Bandcamp, Spotify, iHeart, Pandora, and Google music. Also in the band are Hunter Bring, who plays bass and does recording, and Jesse Paebody, their vocalist.
The band has officially been together a year, releasing two singles at the beginning of this year: "Living Dead" and "My Vendetta". Their debut show at the Garage Bar in Moorhead drew the largest crowd the venue had seen, with 104 attendees. Later on in August, they headlined with the band Frostown in Mandan and drew over 130. Their music, which Rasmussen and Jason described as "metal for fans of Bullet for my Valentine" and a mix of 'melodic', 'grungy', and 'punk' has also been featured on Locals on the 8 with Radio Free Fargo.
On December 15th, Dearly Departed will be recording their first studio album (currently untitled) at the All Poetic Studio in Scotland, South Dakota. The audio engineer for the album will be Jeremy Schaeffer, who is also a member of the band Earth Groans that distributes through Solid State Records. The album will see release in February or March, and the band looks forward to having a big concert to celebrate the release. The lyrics of the album deal with mental illness and issues growing up. Ussery will document the recording of the album to post on social media for the fans, so people can watch the process of the album being made.
With all of this on the table one would think that the band might be nervous, but they are incredibly excited. 2019 is shaping up to be an eventful year for the band, one that people can follow both on social media and on the stage. You can be sure you haven't heard the last of Dearly Departed.