FMSO's Own Talent Takes the Spotlight
by John Showalter | .(JavaScript must be enabled to view this email address) | Music | March 13th, 2019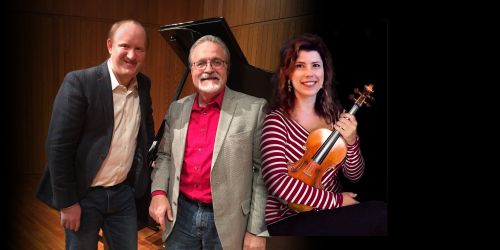 The Fargo-Moorhead Symphony Orchestra has had its fair share of guest performances headlining its concerts over the years. They all have impressive resumes, their fair share of awards, and worldwide recognition. However, bringing this talent in from all around the country and the world isn't meant to distract from, but only serves to augment, the talent of Fargo's own orchestra. However, during the next concert in FMSO's Masterworks Series "The Virtuoso Next Door", our own performers take center stage.
"On occasion, FMSO has featured its concertmaster or other musicians as soloists, but never a full program of feature pieces before," FMSO executive director Linda Boyd said.
This concert will feature FMSO concertmaster, Concordia professor, and violinist Dr. Sonja Bosca-Harasim, pianists Dr. Jay Hershberger from Concordia and Dr. Tyler Wottrich from NDSU, trumpet payers Dr. Tom Strait from MSUM and Dr. Jeremy Brekke from NDSU, principal and second horn players Karin Wakefield and Shiela Anderson, harpist Janelle LeMire, and even special guests the FM Area Senior High Youth Symphony.
The evening opens with a piece by Grammy-winning contemporary American composer Joan Tower titled "Fanfares for the Uncommon Woman". As one of America's leading woman composers, it only made sense that she would write her own musical response to famous 20th-century American composer Aaron Copland's iconic "Fanfare for the Common Man". Just like the piece it was composed in response to, "Fanfares for the Uncommon Woman" is written for brass and percussion. The first fanfare in Tower's piece opens the first half of the concert, and naturally, the second fanfare opens the second half.
Following the opening piece of the concert is "Festive Overture" by the famous 20th-century Russian composer Dmitri Shostakovich, whose works have previously been featured in Masterworks Series concerts for the Fargo-Moorhead Symphony Orchestra. Boyd described it as "a spirited, lively piece which is perfect for the side by side with the FM Area Senior High Youth Symphony."
Next up is 20th-century French composer Francis Poulenc's "Concerto for Two Pianos and Orchestra". "[The piece] is a showstopper," said Boyd, "not just for the spectacle of two 9-foot concert grand pianos on the stage, but also the virtuosic yet saucy French flavor of the music itself." Dr. Hershberger and Dr. Wottrich serve as the soloists for this piece, doing both their respective educational institutions and the Fargo-Moorhead Symphony Orchestra proud.
"Tromba Lontana (Distant Trumpet)" comes next. The piece is by John Adams, a prolific and highly regarded living American composer. This piece features two trumpets played by Dr. Strait and Dr. Brekke, who will be performing intricate melodies from the corner balconies of the concert hall, as Boyd put it, "Literally above shimmering sonorities from the orchestra."
Despite what its title might lead one to believe, the next piece, "Pavane pour une infant defunte (Pavane for a Dead Princess)", by turn-of-the-20th-century French composer Maurice Ravel, is not as morbid as it sounds. "Maurice Ravel was imagining a piece that a long-ago little princess in a Spanish royal court may have enjoyed," said Boyd. Ravel's piece highlights the talents of principal and second horn players Wakefield and Anderson and harpist LeMire.
Finishing off an evening of excellent music is "Chaconne from 'The Red Violin'" by contemporary American composer John Corigliano (whose music FMSO has performed before during their "Altered States" concert). This grand finale is a showpiece for the new concertmaster of the Fargo-Moorhead Symphony Orchestra, Dr. Bosca-Harasim, to exhibit her virtuosic skill on the violin.
"We chose the pieces on this program as not only a varied showcase for many of our musicians to shine," said Boyd, "but also as an opportunity to perform pieces that are not all that familiar but very entertaining for audiences."
As always, concertgoers are able to show up 45 minutes before the concert for an informal discussion/Q&A about the evening's concert with FMSO conductor Christopher Zimmerman.
IF YOU GO:
THE VIRTUOSO NEXT DOOR: "World Class Soloists, Right Here at Home"
Saturday, March 16 at 7:30 p.m.
Sunday, March 17 at 2:00 p.m.
NDSU Festival Concert Hall