​Long live the King
by James Osborne | .(JavaScript must be enabled to view this email address) | Music | July 26th, 2018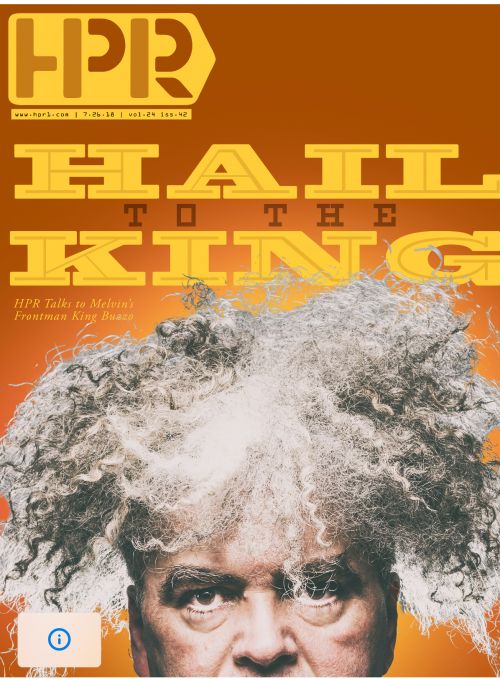 In 1986, Movile Cave was discovered in rural Romania. Hermetically sealed for 5.5 million years, the ecosystem is unlike any other on earth. The oxygen levels were much lower, the CO2 much higher, the temperature hovers around 80°F and the walls are covered in dense layers of fungus and microbes. It's a marvel in isolated evolution: eyeless spiders, albino woodlice, water scorpions, etc. Of the 48 species discovered in Movile Cave, 33 were found nowhere else in the world.
The year 1986 was coincidentally the year C/Z Records released Deep Six, an early collection of pre-Grunge recordings, which included Soundgarden's first demos and the early efforts of soon-to-be famous grunge musicians. Four of the 14 tracks were by The Melvins.
When a CD copy of Deep Six showed up at my house in the mid-nineties I was sure it was going to suck, because "Grunge" sucked. Grunge was pop in 1995, so much so, that Payless Shoes sold rubber Doc Marten knockoffs for $19.99, and Stone Temple Pilots and Collective Soul were the musical equivalent of those stupid shoes. Knockoffs. Cultural opportunists. "Grunge" was the sound that stirred the hollow souls of my sh*tty, superficial classmates, and I hated every contrived iteration of distressed denim-clad pop.
Reading producer Chris Hanzsek's liner notes to Deep Six changed my mind. I couldn't find a copy but he said something like 'Few Seattle households had cable and since it was out of the way, many bands didn't bother to book shows there.' The sound festered in solitude without outside influence. This 'world-within-a-world' theory was Chris Hanzsek's explanation for the isolated evolution of Seattle's music.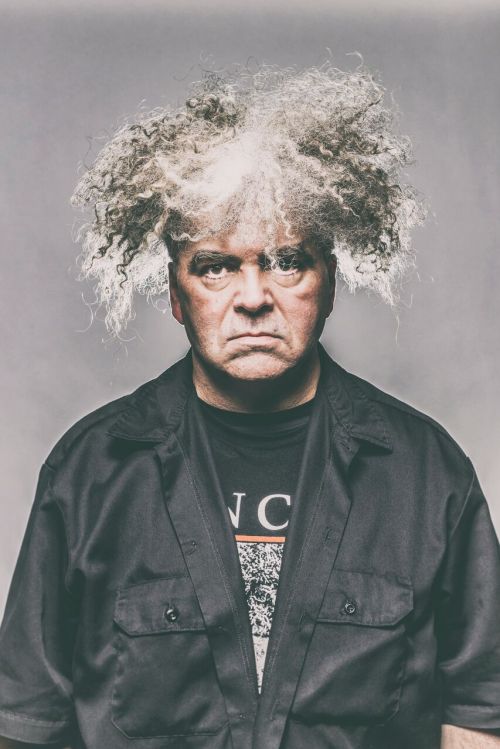 Hanzsek had the foresight to realize he was witnessing something unique, Deep Six was a document of the "Seattle sound". His explanation gave me a richer understanding of Grunge, before Grunge was "Grunge". I appreciated the bands for what they were when the recordings were made, not what they'd become. Soundgarden's song Tears to Forget, was as fast as anything I was listening to at the time, and The Melvins tracks were heavier. If you think about the music being sold in 1986, there is no way anyone involved in this project could have predicted that these bands would end up being the prevailing figures of pop music just a few years later. It was just too bizarre for its time.
Comparing a city's music to a millions years old evolutionary anomaly is a bit dramatic, analogically, but I like the idea of scientists unearthing the hideous freaks from Movile Cave, with the same disgusted intrigue record producers had when they first came across bands like: Mudhoney, Tad, and the Melvins.
What do Nirvana, Alice in Chains, Stone Temple Pilots and Soundgarden have in common? None of them would exist without The Melvins, well among other things. The Melvins were here before them and they remain now that those bands are gone. "It's a war of attrition" says The Melvins singer/guitarist/songwriter Roger "Buzz" Osborne. "We're the last band standing. We work every bit as hard as any band out there if not way harder. We'll go nose to nose with any band working today. We've stayed relevant for 35 years. Led Zeppelin didn't do that."
Some things I learned about Buzz: he's smart and he has a lot to say. I kept having to rudely interrupt him with interview questions or whatever.
An avid golfer and curmudgeon, Buzz probably has more in common with your grandfather than you, including his secrets to success and longevity in music. Diligence, piety, sobriety and most importantly his marriage. "I talked someone who I think is really amazing into marrying me. It's probably my biggest accomplishment. That's something I don't take lightly. It's something I am not going to screw up because good women do not grow on trees." Buzz's wife Mackie is an artist whose work you've seen if you've ever been anywhere that punk rock exists. She's designed album covers for The Circle Jerks, Rancid, Social Distortion, The Offspring, All, The Vandals, Melt Banana, and a bunch of Melvins releases. They've been married for 25 years.
Buzz finds a parallel between his marriage to Mackie and his band. "Same with The Melvins. Good bands don't grow on trees, I'm not f*cking this up. I am honored and privileged to be in this position, to play with these guys who are the best in the business and I'm willing to work harder than anyone else to make that possible. The rest of it doesn't matter."
It's hard to place The Melvins historically without talking about Nirvana. In fact, almost every Melvins' interview I could find addresses Kurt's admiration for Buzz and the Melvins, or Buzz apparently feeling partly responsible for Cobain's death, or his supposed jealousy of Nirvana's success.
"Nirvana had massive success and if you look at the outward reasoning for their ultimate collapse it's the same as some hair metal band like Motley Crue. They were playing the same venues, on the same radio stations, same writers who were writing about Nirvana were the ones who'd previously been writing about those other bands. They were able to plug that whole thing into the apparatus that already existed. They generated nothing more than an attitude that embraced more than those previous bands did." he says.
It seems to me like there was less egomania involved with the grunge bands than the hair bands. Buzz disagreed. "That's what you'd like to think, but I can tell you right now that that's simply not true." I guess he'd know better than me. "Since I haven't sold millions of records, my opinion on these matters doesn't matter to people. I have nothing to gain by making up stories about any of these people. I'm not jealous. How could I be jealous of Kurt Cobain, he's dead." The perceived jealousy stemming of course from The Melvins not achieving Nirvana-like levels of success, despite being their main influence.
The Melvins were briefly signed to Atlantic Records from '93-'96. I imagine Cobain's relentless espousal in the press is what led them to their door. The three albums didn't perform tremendously. Though their songs were equally as good, and in many cases better than what was charting at the time they never got any singles to stick. My theory, they weren't bad looking guys but they weren't Tiger Beat-quality hotties like the Cobains, Cornells and Vedders of the world.
I remember seeing the video for the song, Revolve, on Headbangers Ball, around '94. The song was once described by my friend Leif as "The perfect soundtrack for whipping shitties in your ex-girlfriend's front lawn". It seemed a bit more polished than The Melvins earlier offerings. I could've confused it for White Zombie or Helmet, maybe even Soundgarden. That led me to believe that The Melvins were aiming for a wider audience during their Atlantic years. "No, not in the least" said Buzz. "It was totally coincidental. I think our stuff now sounds more commercial than that stuff. And you gotta remember, who started first? You could say 'oh, you sound like Soundgarden' but that's putting the cart before the horse. Those guys openly admit it.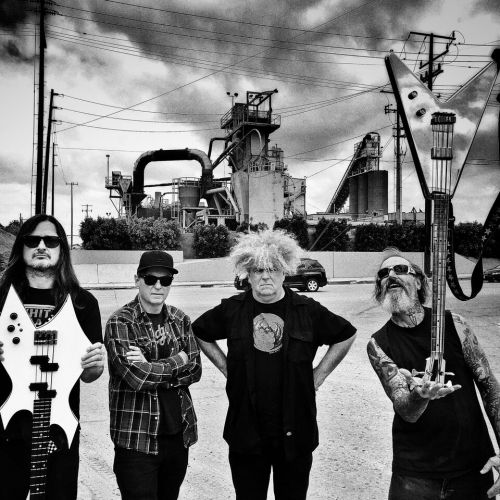 With that line of reasoning, since The Melvins begat the aforementioned 90s bands, and those bands begat post grunge, I figure Buzz has to shoulder at least partial blame for the existence of Creed, Nickelback and Staind, since those bands all cite Nirvana and Soundgarden as influences. "Well, yeah I guess, indirectly but those bands don't know anything about us. What's important to me is that my initial interest in what I was doing wasn't wrong. My instincts were not wrong. And that impact reacted on a global level. Without me that doesn't happen. But it's not my fault these bands interpreted it in a way that was horrendous. It's like blaming religion for priests molesting people."
I can think of almost no bands who ever attained that Nirvana-like level of success who kept it together without death, disease or disbandment. The Melvins were never a household name, they never truly went pop and I'm sure they drive sensible cars, live in sensible homes and live sensible lives. I'd hate to imagine what would've happened to them if Revolve had been a huge hit like Smells Like Teen Spirit. I imagine Buzz would tell you differently but I bet we wouldn't have been able to have this conversation.
"Success isn't just about what you accomplish in your life, it's about what you inspire others to do." Self-help book or throw pillow somewhere.
If we accept that definition of success and consider The Melvins' immeasurable impact on Western culture and history, the fact that they're still filling venues all over the world, they are beyond successful and it's only fitting that the band that started it all is the one who found the most success in the end...except for Pearl Jam but who really gives a shit about Pearl Jam?