Look Out Posers: DTFM Vinyl Distro is in Town
by John Showalter | .(JavaScript must be enabled to view this email address) | Music | May 15th, 2019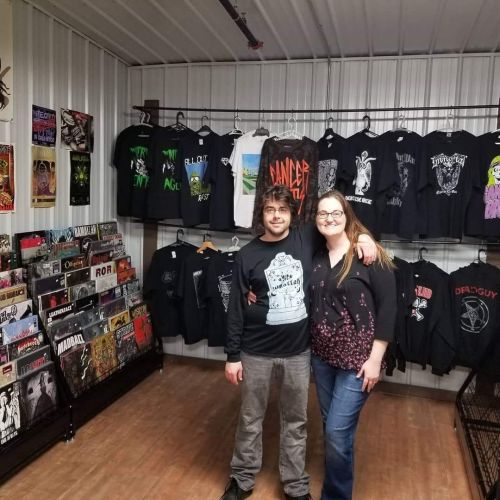 There is a golden oldie by Peter Allen called "Everything Old is New Again", and that is certainly true about vinyl records. It is no secret that vinyl records are no longer just your parents' musical format. Their popularity has skyrocketed among a new generation of audiophiles who cite everything from aesthetics to audio fidelity to a "warmer sound" for their ditching the formats like CD that supposedly made them obsolete.
Locations like Orange Records and Mother's in the Fargo-Moorhead area have a constant stream of customers from the 18-35 year old demographic. But for those who feel that their itch (or record) still isn't being scratched, FM's newest addition to the fray might be just what they're looking for.
DTFM Vinyl Distro is the brainchild of owner Devin Casavant. In keeping with the resurgence of old musical formats among a tech-savvy youth, it operates both as a brick-and-mortar and a (mostly for the moment) online store, with Casavant's intent for it to eventually become his future day job with the physical location also open full-time. Its genesis was about three or four months ago. "Literally how this came about was that I went back to my job after a work accident and felt like things had gotten worse," said Casavant. "I was trying to soldier through but nothing I did was good enough."
"So, after a conversation with my Dad he told me I should open my own record store, he would supply the space, and give me some start-up capital but this was my baby and its success is based on what I put in it." He added, "I did this so I could have the job I always wanted, promoting music that I love. It won't happen overnight but I think with some time it will get there." Other important contributors to his new effort are Casavant's wife Adelle, who helps him run the business (and "puts up with his insanity", Mark Lind (more on him later), his buddies Jim, Morbid Rob, Jimmy, Patrick, Carissa Johnson, Domenic Romeo (for selling him some of his rarities), his cousin Alex, and the good folks at KRFF Radio Free Fargo.
So what niche is DTFM Vinyl Distro filling that a place like Mother's or Orange Records is not? Casavant wanted to make it clear that he has nothing but love for both those places, being friends with the owner at Orange and calling Mother's a "damn good store". "The manager of that store actually taught me some of the most important parts of running a successful record store." He elaborated on what makes his store different however. "I cater to punk rockers, metal heads, hardcore kids (you never grow out of being a hardcore kid by the way), and straight-up HOOLIGANS! All people who like loud music and a good time. Normally this model would not work but with the power of the internet the entire country has access to my store and it is starting to get known. I'm sure the ad in next month's Decibel magazine won't hurt us either." Casavant said he got the idea from his good friend Mark Lind, who is known for bands such as The Ducky Boys, Mark Lind, and The Unloved, and The Warning Shots, as well as running his own distro called Get-Punk.com. When Lind gave his endorsement for DTFM Vinyl Distro, Casavant knew he had to pursue it.
Among the selections at the distro one can find classic bands like Bad Religion, Sick of it All, and Blood for Blood, but also more obscure acts that Casavant listed off such as Devil Master, INTEGRITY, and Pulling Teeth. "Basically, if you want HATEBREED, The Old Firm Casuals, The Nerve Agents, and The Bruisers with an out-of-print copy of INTERITY'S Suicide Black Snake I highly doubt you will find them anywhere else up for grabs in this town in MINT condition," said Casavant. "Oh yeah, we got some KILLER MERCH too that I know for a fact no one in town is carrying."
All this talk about the store itself and no mention about where it got its name. "I named it in honor of one of the GREATEST New Jersey hardcore bands of all time, DEADGUY!" said Casavant. "DEADGUY has one shirt/sweatshirt with a pentagram on the front and a demon on the back with the words under it reading DEATH TO FALSE METAL. The first time I saw that I had the same reaction as seeing the Bad Religion Cross Buster logo for the first time. The message is so bold and strong and most importantly needed to be said. There are a lot of bands that are not in the music scene for the right reason or are just playing the part of musicians. To me those letters are like a warning sign to garbage music and a welcome sign to the fans who want the real stuff no matter how grimy it is."
So if you're one of those fans who's looking for a sign, DTFM might just be the sign you're looking for.
If you're interested
Location: 4130 3rd Ave N Unit C
Store Hours: 11 a.m. to 5 p.m. on Saturdays.
Store pickup for orders available 4-7 p.m. after discussion with owner
www.DTFMvinyldistro.com