Midwest roots
by Sabrina Hornung | .(JavaScript must be enabled to view this email address) | Music | December 5th, 2018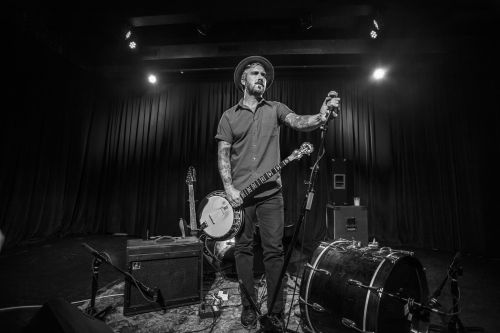 When Iowa born roots musician William Elliott Whitmore describes his latest album "Kilonova," he likens it to a mixed tape, it's all covers ranging from Magnetic Fields to Captain Beefheart, Jimmie Driftwood and more. He said the songs that he chose are the kind of songs that you want to share with others and from a songwriter's perspective, songs so good he wished he would have written them. Though the album consists of covers, Whitmore's earthy baritone comes through making the songs his own.
"I grew up in a household with a lot of music around. My folks had a great record collection. My old man played guitar and my mom played the accordion and piano. My dad gave me his old Sears and Roebuck acoustic when I was 12 or 13 and a book of chords." He went on to say, "From there I started learning popular songs as well as old country tunes."
He eventually inherited his grandfather's banjo and once he left his hometown of Montrose, he found a foothold in the Iowa City DIY scene.opening for hardcore acts as a one-man country band.
Whitmore doesn't spend nearly as much time on the road as he once did. He and his wife live on the same 32-acre farm he grew up on. He jokes that when it comes time to hit the road he becomes a little "barn sour." Barn sour being a term for a horse that gets too used to spending time in the barn. He said, "I have a huge subsistence food plot, a couple of horses, and chickens." When the time comes to tour his neighbors are kind enough to watch the place.
If there's a word that could describe Whitmore it would be genuine. For the first five minutes of our 40 minute interview, we shared midwest colloquialisms and chatted about the weather.
When asked what his favorite song on the album was, he admitted that he favored his cover of Magnetic40-minute Field's "Fear of trains." He admitted that it nearly chokes him up when he plays it and chalks it up as one he wished he wrote.
Unfortunately, William Elliott Whitmore's upcoming show at Fargo Brewing Company is sold out, it wouldn't be the first time and it definitely won't be the last. There's a good reason Fargo loves William Elliott Whitmore. He oozes midwest charm and swells with midwest pride. In an interview we did in 2016 he said, " I've always felt that folks here in the "flyover states" have had to work a little harder to make an impression. Luckily hard work comes naturally to most of us."