​No blues for Varsity
by Sabrina Hornung | .(JavaScript must be enabled to view this email address) | Music | July 25th, 2018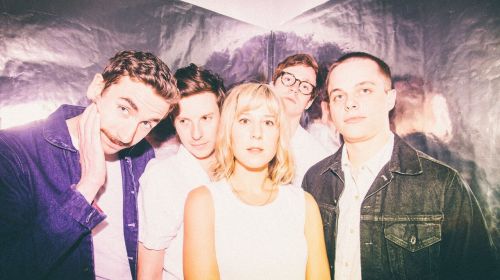 High Plains Reader had the opportunity to speak with Stephanie Smith and Patrick Stanton of the Chicago based Indie-pop band Varsity.
High Plains Reader: How did Varsity come to be?
Stephanie Smith: We all sort of grew up playing music, but none of us studied music in school, none of us went to college for music or anything. So we kind of all met up again back in Chicago after school. Pat and I met in college and we kind of met Dylan in college our guitar player. The Stolz brothers on drums and bass, they are high school friends of mine. So after we all graduated from college we all kind of ended up in the same city and after a couple lineup changes we all started making music together.
HPR: And so I just rolled in from my home town this morning and I was listening to NPR and there was a female musician talking about her experience growing up and playing music in her hometown, and she mentioned she was the only girl in her hometown who was active in the music scene. What was the scene like when you started playing live sets Stephanie?
SS: Chicago luckily has a lot of female musicians. Most of the bands in the indie rock genre are still heavily male dominated but there were a lot of female musicians to look up to still playing currently and also historically in Chicago. I'm a big Neko Case fan and she got started here. So there was never that feeling of being the only woman in music. I definitely think that still a minority of women are in music but there are still a lot of role models to look up to.
HPR: How do you approach your songwriting? Do you have a formula or a process that you come back to? Or does it just come organically?
SS: I think we used to have more of a cut and dry formula. Usually Dylan (one of our guitar players) would bring an idea and we would all kind of flesh it out with our own parts and change it sort of democratically but always kind of starting with one person. I think now that is kind of shifting. Different people are bringing ideas for the nugget of a song to practice and also I think we're all contributing more to the structure of the song and jamming on it more before we solidify the structure. So our writing process is changing. We jam a lot. We spend a lot of time in practice working on the same song like over a period of months to get em to where we want them which I think is very fun but it's a slow process.
HPR: I always think it's really interesting how musicians communicate on stage and even how they come to write their music. It's like its own language. I'm not a musician, but I think it's really fascinating.
Patrick Stanton: It comes with time too. It took us a lot to get to that point I would say. Now we're pretty comfortable playing with each other. If something happens on stage we're all pretty much aware of it and able to embrace it or fix it pretty quickly, you know? Whereas I feel like back in the day that was more of a challenge.
SS: Yeah, I think now we can definitely correct things that happen on stage, or just play through them and laugh them off. I mean that literally just happened this weekend and it's totally fine. If you make a mistake like that it's also part of the performance, people aren't there to see exactly what they can hear in their own living rooms on the album.
HPR: That's part of the fun of going to a live show. You see people interacting with each other on stage and how they interact.. whether people are having fun and helping each other out. That's more fun to watch! What do you feel is the biggest challenge to the musician in the current age?
PS: The obvious one would be, touring is tough, that you hear all the time, it would be awesome if we made money. But that's not a huge deal-breaker for any of us. Were still doing it regardless.
SS: Yeah, I would say recognition I guess. Which leads to all of the above. Standing out in a really vast pool of amazing other bands and musicians is difficult and I think that leads to things like: touring, labels, money stuff like that. I don't think that is unique to this day and age, I just think there are more bands right now than there ever has been, but I wouldn't want it any other way to be honest. I think that the options and accessibility for listeners being able to choose different types of music and different bands and musicians being able to make music more easily, I'm all for that. It's just making it harder for musicians to stand out among everybody else.
IF YOU GO:
Varsity and the Nunnery at the Aquarium
Friday, July 27, 8:30 p.m.
226 N Broadway, Fargo