​Soul Man
by Sabrina Hornung | .(JavaScript must be enabled to view this email address) | Music | July 11th, 2018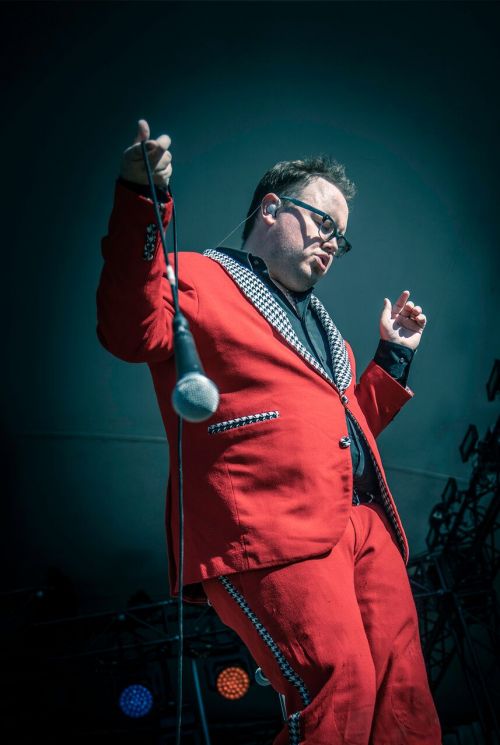 Saint Paul and the Broken Bones is known for their distinct R&B sound, with Paul Janeway's soulful voice and powerful backing band, he exudes emotion--a true showman. He dresses the part and dominates the stage with an almost effortless grace.
As we sat down for our interview backstage at the Main stage of the Winnipeg Folk Festival the Birmingham, Alabama native was extremely charismatic, a true example of southern charm as we visited like we'd known each other for years. He shared with us an anecdote handed down from his mother. When he was a small child he'd line up his stuffed animals in a row and would proceed to preach to them and entertain them.
"She always thought I'd be a ringleader for the circus or a preacher. So I'm kinda both now." He laughed.
Saint Paul and the Broken Bones is the second band lead singer Paul Janeway has been a part of. Instead of growing up playing in rock and roll bands he grew up singing in church.
"I wanted to be a preacher so this was," Janeway said, pausing, "as your worldview expands you fall out of love with that stuff so now I'm here."
Instead, he preaches from an entirely different pulpit.
"It's a lot more accepting with a lot more curse words."
During out conversation we spoke a bit about the evolution of Southern pride in the current political climate.
"Alabama is a predominantly conservative state. There are a few of us who are very liberal. We had a very important Senate race with Doug Jones and Roy Moore and we actually campaigned for Doug Jones--which is something we rarely do because typically it doesn't matter in Alabama, you're not gonna win--but we did.
"When you grow up a liberal guy in the state of Alabama there's an identity. It took me a while to reconcile these things. I love Alabama football, I love Southern food, I love Southern music, but I don't love the ideals of nonacceptance. You learn that you have to live in a world where people have all sorts of ideas I don't tolerate it but at the same time you have to get lunch next to those people. It teaches you what battles to pick. It's a little more challenging… There's certain places where you live and everybody thinks pretty much the same but that's not how it is in Alabama."
Musical mentors included a pastor who played guitar, a woman in church who served as organist and his mother.
Interestingly enough his mother's side of the family grew up traveling across the country singing in a gospel caravan.
As far as how the band acquired their sound he said, "A lot of our guys are from Mussel Shoals so we have the horns. Everybody our age is influenced by everything now, so we kind of rely on that aspect of it. You have to have a good beat with the horns and that kind of thing--soulful singing is my thing. It's just this marriage of gelatinous influences. For us, genres are for labels and PR people...not really for us."