​Staying Courageous with The Brave
by John Showalter | .(JavaScript must be enabled to view this email address) | Music | January 16th, 2019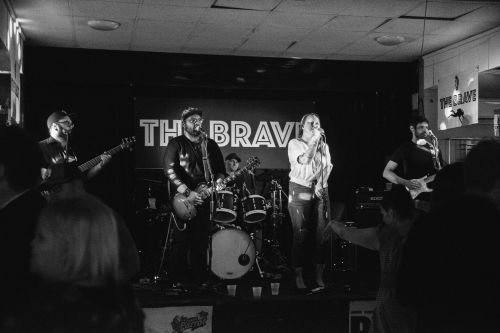 I just had the pleasure of being introduced to the newest incarnation of The Brave, which has been around a little over a year, but the band itself has been around for about seven years. It started out with current members Alex Boche on lead guitar, Matt Monson on bass, and Patrick Ryan Hess on rhythm guitar. Their original drummer was named Austin, but after pursuing another opportunity the band went on a hiatus. Their current drummer, Brandon Kuntz, came from Save Me CJ (another band Hess was in) and the hiatus ended. Kayla Gallegos became the newest addition to the group as a vocalist a little over a year ago.
"Matt knew Kayla was a vocalist in the area already, was friends with her and reached out to her about seeing if this would be a fit," said Hess. "We'd decided before approaching Kayla that we needed to raise the bar with our band and that it was time to bring in a full-time vocalist. Matt suggested Kayla when these discussions were taking place, she came in for some rehearsals for an upcoming Christmas show and it just gelled. After that show, thankfully Kayla just wanted to keep the magic going and that was that." Gallegos noted, "The guys are great and we clicked really well badabing badaboom."
When asked what genre he would classify the band as, Hess answered, "No one member in the band is really bound to a genre and that reflects in the sound of The Brave. The vehicle we've chosen to transmit our musical message is definitely guitar-driven rock but we bend and shape to fit the needs of the song. We can get pretty metal if we feel that's necessary, we go acoustic on tunes, we like to add dance flavors to much of what we do. We're kind of a hodgepodge of our favorite artists across genres, sprinkling distorted guitar to taste."
Throughout their tenure as a band, The Brave has stuck to cover tunes, a "conscious effort" according to Hess. "It can help you figure out how you sound, how you make other stuff sound, what even gets you off in the first place. Some of the most enjoyable cover tunes we do started out as songs we weren't necessarily huge fans of, bordering on being rewritten. There can be difficulties in adapting songs, given our chosen musical vehicle. Some songs click early, some require a lot of work to sound just right, some we fail to adapt." The band currently does not have any original tunes to themselves, "at least nothing that could be considered presentable," said Hess.
However, Gallegos joining the band has helped revitalize the enterprise. "It's a rebirth for us, thanks to the addition of Kayla, so the momentum is kind of fresh," said Hess. With her addition, the band has started writing original tracks and has plans to self-produce and self-release an EP in the near future. Hess said, "We'll be releasing more media online here on in, hammering out our live show, improving production. Otherwise, we're settling for nothing less than the establishment of a media empire." In the meantime, the only way to get their merchandise is coming to one of their shows.
That is easy enough, however, as they perform around Fargo quite regularly, usually at least two weekends a month if not more. Typically they frequent Dempsey's or the Pickled Parrot. In fact, their next upcoming shows are at the Pickled Parrot on Friday and Saturday, January 18th and 19th. "We actually do have a surprise in store for this weekend, which I won't give away here but let's just say the Parrot's reputation for a certain easy-to-chant song may be in for a bit of a spin," said Hess. Otherwise, if you can't make it to that show be sure to follow the band on Facebook for future performance dates.
IF YOU GO:
The Brave at the Pickled Parrot
January 18-19, 9:30p.m.-howling
Pickled Parrot, 505 3rd Ave. N, Fargo