​Ukulele Crazy at the Red Raven
by John Showalter | .(JavaScript must be enabled to view this email address) | Music | July 26th, 2017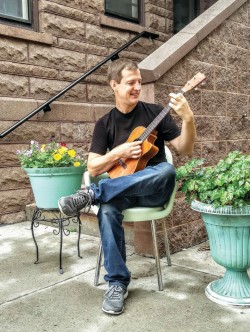 Most of us only hear about world records secondhand. Many might think they're not up to the challenge, others might not see the point of breaking one, and others just read about them in books and think of them as an exotic curiosity. In any case, most people don't think about taking part in them.
This isn't the case for a man named Julian Ruck, however. Ruck is someone who has sought to break world records on several occasions. Starting on Friday, July 28 at 10am at the Red Raven, Ruck plans to break his own record for the longest ukulele performance by playing until 4pm on Saturday, July 29, a record that was surpassed recently by a player in the United Kingdom.
His previous record was 25 hours and 8 minutes, an impressive feat with any instrument, and now he seeks to meet the UK record holder's whopping 30 hours. And he's inviting any musician who wants to bring their own instruments to the Red Raven to join in on his ridiculously long ukulele jam session. Not only is he hoping to break the record, but says that this gargantuan ukulele challenge is "part of a new strategy to meet musicians and get publicity." He said that the last time he broke the record that there was hardly anybody there to witness or take part in it, and that took some of the fun out of the experience.
Ruck is a man who is constantly on the move. In his own words, he said in the last year he had, "been living on Greyhounds and friend's couches." World record breaking isn't about the money for him, but about trying to create a community. He wants to connect musicians and performers and make new friends from across the country.
In a world full of discord, his romantic ideal is that novel experiences like this can bring people together, have some fun, support each other, and realize their similarities. Given the reception of this event, he hopes to create an 'open jam' that will pop up every month in a different city, and that perhaps he will keep continuing to try to break his own record as a gimmick.
With all this talk of record setting, one is probably thinking of the Guinness Book of World Records. However, while that is where the record set by the United Kingdom ukulele player is recorded, that is not where Ruck plans to have it done. Instead, it turns out that there is a whole market for sites and publications that compile world records, and he plans to use "Record Setter on this go-round." The United Kingdom record breaker was a good enough sport to acknowledge Ruck's previous ukulele record with Record Setter, but Ruck's previous experience with Guinness left a bad taste in his mouth.
Ruck's breaking off with the Guinness Book of World Records occurred with a previous record attempt in the form of a 34-day music festival. "Chico Breaks the Record" was an event that Ruck arranged in Chico, California between April 1 and May 5, 2015 to be the longest music festival ever. The event went on 24 hours a day for 34 days, with a whopping 300+ acts and over 11,000 songs played. "It was one of the greatest experiences of my life," said Ruck. "I made new friends. I know a kid who exists because of that festival. I rapped with Coolio!"
Though the festival itself went off without a hitch, the fallout from the event would be one of the worst experiences in Ruck's life. Ruck summed up the difference between Guinness then and Guinness now this way, "Back when they started Guinness would go and seek out these records, this is the tallest man, etc. Now, they sit back and expect everything to be brought to them." After an extended battle with Guinness mired in bureaucratic red tape involving everything from whether an entry fee for the record would be charged to how the event would be verified (although Ruck said that he was able to supply reams of evidence for the event and its duration), Guinness did not end up recognizing "Chico Breaks the Record".
After spending most of the last year on the road, Ruck eventually decided to settle down in Fargo for a time in order to write a book about the entire Chico experience from his point of view. If Guinness wouldn't recognize the record, Ruck would make sure that the event was recognized in some other way, given its importance to him. He would have the last word. After coming to Fargo, where Ruck knew no one and had heard was a nice place, he decided not only would this be a great opportunity to write his book but to lay the groundwork for a new record to be broken.
Of course, the question on everybody's minds is probably, "Why the ukulele?" Ruck says he has played guitar most of his life and took up the baritone ukulele in the last eight years. He plays it very similarly to a guitar but says there are a few reasons why this is the instrument he chose. It's small and easy to hold, he says the instrument itself is making quite a comeback, and the strings are nylon, something a lot easier to play for hours and hours, unlike the unforgiving steel of guitar strings.
Ruck says any musically-inclined individual can pop in at any time during the event in order to jam with him with a couple of improvisations. They have to bring their own instruments, and given the fact that the Red Raven doesn't have an ASCAP license, he will not be able to play any copyrighted cover songs, only open-source/public domain songs or originals he has written himself. He also plans to have a kid-focused segment over lunchtime on that Saturday if any parents want to bring their children.
Whether you plan to jam with Julian or just sit by and listen while enjoying a nice coffee or tea, everybody is welcome to join in what is certainly one of the most novel events that Fargo has had in a long while.
IF YOU GO
World's longest ukulele performance
Friday, July 28, starting at 10am
Red Raven Espresso Parlor, 916 Main Ave, Fargo